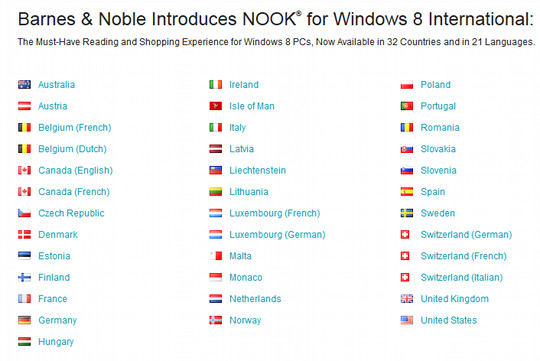 Yesterday Barnes and Noble finally took a big step toward realizing their international expansion plans by opening their ebookstore in 30 new countries around the globe, with support for 21 languages.
Up until now the Nook store has only been available to residents of the United States. Then the United Kingdom about one year ago.
Amazon, Kobo, Sony, and Google have all managed to expand their ebookstores internationally at a much greater rate over the past few years; it's good to see Barnes and Noble finally taking a stand and expanding their marketplace.
But there's a catch. It appears the expansion is largely being influenced by Microsoft, whom owns a portion of Nook Media. The international expansion is being centered around the Nook app for Windows 8 computers and tablets.
As of right now it appears that international users are only being given that one option for accessing and shopping for Nook Books, as there's no mention of other Nook apps or devices being available internationally.
If customers have to use a Windows 8 machine, coupled with the fact that B&N uses unique DRM that makes their ebooks incompatible with most other ePub-supporting devices, they aren't giving international customers much of a reason to buy from them. But I guess it's a start.
Here's the list of countries and languages that now have access to Nook books, magazines, and newspapers through the Windows 8 Nook app:
Australia
Austria
Belgium (French)
Belgium (Dutch)
Canada (English)
Canada (French)
Czech Republic
Denmark
Estonia
Finland
France
Germany
Hungary
Ireland
Isle of Man
Italy
Latvia
Liechtenstein
Lithuania
Luxembourg (French)
Luxembourg (German)
Malta
Monaco
Netherlands
Norway
Poland
Portugal
Romania
Slovakia
Slovenia
Spain
Sweden
Switzerland (German)
Switzerland (French)
Switzerland (Italian)
United Kingdom
United States