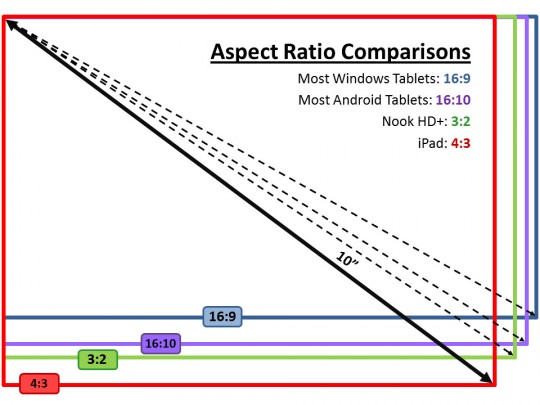 Earlier this week a reader sent in an image (thanks, Thys Kotzé!) comparing the different aspect ratios for tablets. I thought is was a helpful illustration comparing the common sizes for tablets' screens so I wanted to share it here (click the image for a larger version).
As the illustration notes, most newer Android tablets have 16:10 ratio screens, Windows tablets have 16:9 ratio screens, and the ever-popular iPad variants all have 4:3 ratio screens.
A lot of older Android tablets have 16:9 ratio screens, and a few have 4:3. But the major exception to the rule is the Nook HD+ with its 9-inch 1920 x 1280 resolution screen. It's the only tablet that I know of with a 3:2 ratio screen. Even its little brother, the Nook HD, has a 16:10 ratio screen like most others.
I've had the good fortune to test dozens of various tablets in different sizes and configurations, and I have to say the Nook HD+ is one of my favorites in terms of screen size and resolution. I really like the 3:2 ratio screen, and am surprised that it isn't more popular. It gives the screen just enough width to feel comfortable in portrait mode. 16:9 ratio screen always feel too narrow in portrait mode to me. 16:10 is better, but I still feel more comfortable using those tablets in landscape mode mostly.
With the iPad's 4:3 ratio screen, I always feel that portrait mode is more comfortable, and I never use landscape mode, except for when taking an occasional picture or playing a video game.
The Nook HD+ with its 3:2 ratio screen is the only tablet that I've ever used that I like using landscape mode and portrait mode equally. Of course everyone is different and that's just my personal taste, but I'm still surprised there aren't more 3:2 ratio screens out there. Even on a 7-inch tablet I think it would be pretty nice, better than 16:10, especially for e-reading. The slightly wider and shorter screen is more akin to paper books and suits magazines and comics better.