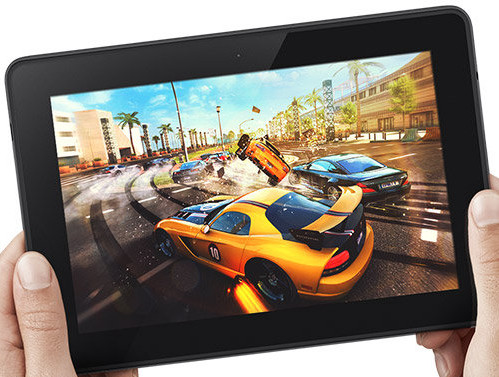 I'm trying to use my Kindle Fire HDX more so that I can write more articles about it. I thought I would check out the games section specifically for the HDX at the Amazon appstore to see what's popular.
I find it interesting that Amazon advertises the Kindle Fire HDX as being "built for the best in gaming" in part because of the speedy 2.2GHz quad-core processor, and yet the bestselling games both free and paid for the HDX are all ones that can be played on the Kindle Fire from 3 generations ago.
Nevertheless, here are the lists for the top games for the Kindle Fire HDX:
Top 10 Free Kindle Fire HDX Games
Switch and match your way through more than 400 levels in this delicious and addictive puzzle adventure. Ain't it the sweetest game ever? Please note Candy Crush Saga is completely free to play but some in-game items such as extra moves or lives will require payment. You can turn off the payment feature by disabling in-app purchases in your device's settings.
Gru's loyal, yellow, gibberish-speaking Minions are ready for their toughest challenge in Despicable Me: Minion Rush. Play as a Minion and compete with others in hilarious, fast-paced challenges in order to impress your boss, (former?) super-villain Gru! Jump, fly, dodge obstacles, collect bananas, be mischievous, and defeat villains to earn the title of Minion of the Year!
Finally you have found the Holy Grail! But how far can you escape? Zombies, Werewolves, Orcs and Bats are going to stop you and return the Holy Grail back to the secret Cave! Swipe to jump and slide. Tilt to collect rubies and choose your path between caves and canyons. Tap to shoot. Watch your health! Every monster attack will reduce your health by 10%. Use Store to buy Health packs and ammo to keep running further.
Welcome to downhill racing on Piggy Island! Feel the rush as you fling those freewheeling birds and piggies down the track at breakneck speed – with plenty of twists and turns in a thrilling race to the finish line! But beware! Look out for hazardous roads, mischievous opponents riding your tail and special powers to put the race leader behind the pack. Plus, go from soapbox car to supercar by upgrading your ride!
Connect matching colors with pipe to create a flow. Pair all colors, and cover the entire board to solve each puzzle. But watch out, pipes will break if they cross or overlap! Free play through hundreds of levels, or race against the clock in Time Trial mode. Gameplay ranges from simple and relaxed, to challenging and frenetic, and everywhere in between. How you play is up to you. So, give Flow Free a try, and experience "mind like water"!
Presented by Kiloo Games and Sybo Games. DASH as fast as you can! DODGE the oncoming trains! Help Jake, Tricky & Fresh escape from the grumpy Inspector and his dog. Join the chase! Grind trains with your cool crew! Colorful and vivid HD graphics! Hoverboard Surfing! Paint powered jetpack! Lightning fast swipe acrobatics! Challenge and help your friends!
Run is the most popular Flash Game, now available for Android from albinoblacksheep.com. You are an alien that can only run and jump. You run on the tiles of the floor, walls, and ceiling of outer space. Keep in mind that when you switch walls, the game will stop time for you to get your bearings. It's not lag.
Nemo and his dad, Marlin, set out to build the coolest reef in his class. Help Nemo create a best-in-class underwater retreat, and discover the secrets to building a permanent home for his friends! Continue Nemo's story and adventures beneath the sea! Create and personalize your very own underwater paradise. Make a home for your favorite characters from Finding Nemo including Dory, Gill, Bloat, Bubbles, and more!
Experience life as a Shark in the ultimate test of survival. Jaw dropping 3D graphics and action packed gameplay. Grow from a pup into a 10 ton Great White Shark! Eat your way around a diverse aquatic world full of wonder and danger. Feast on tasty sea creatures, swimmers, turtles and fishermen to grow into a giant. Battle enemy sharks, submarines, and the weird creatures of the deep. Chain up combo bonuses to gain massive hiscores!
Connect colorful lines of Jelly to solve over 100 levels in this compelling puzzle adventure. Why don't you jump in and make a big splash in Jelly Land? Jelly Splash is completely free to play but some in-game items such as extra moves or lives will require payment or Facebook connection. You can turn off the payment feature by disabling in-app purchases in your device's settings.
Top 10 Paid Kindle Fire HDX Games
Four nerds, drawn into a fantasy world and mistaken for heroes, have to battle their way through a massive crazy adventure and defeat a preposterous villian! This great RPG has magic, dungeons, pizza and jokes galore and if you ever enjoyed Final Fantasy, Chrono Trigger, Secret of Mana or Dungeons and Dragons you're gonna love this game!
Minecraft is about placing blocks to build things and going on adventures. Pocket Edition includes Survival and Creative modes, multiplayer over a local Wi-Fi network, and randomly generated worlds. You can craft, create and breed anywhere in the world so long as you have hands spare and battery to burn.
It is time for the yearly mining contest upon the mythical world of Kavros. One hero from each of the great races will step up to face this mighty challenge – and one of those heroes is you. Be the first to earn enough gold pieces to beat the level and the contest will move to a bigger mine with a higher target and more treasure to be found.
Take the thrill of spinning the wheel to see how much money you have at stake before betting it to pick a letter and simultaneously unveil a secret image! The secret image is also the answer to the puzzle, so your goal is to use both your visual clue as well as your ability to solve missing letter puzzles to win.
Meet Swingy, the brave hero of this swinging tale. It is spring in the Whispering Woods and like all other Swingworms of his age, Swingy wants to climb highest tree in the forest – The tree that reaches all the way up to the Moon. The only thing standing in the way is the berry-hoarding Big Bug and his countless spiky minions…
Explore an ancient castle while solving mysteries and puzzles which will ultimately grant you entry into the keep itself. What lies within the keep is unknown, only those brave enough to find the Sword of Ire will be granted entry. Telvonus ruled his kingdom for decades. Before his kingdom fell, he sealed his keep with a spell. He left only one way to enter the keep again, The Sword of Ire. The bearer of the sword would be immune to the spell and be granted entry into the keep.
Get ready to soil your plants! The hit PopCap® game comes to Android at last. Forget shotguns, flamethrowers, and cricket bats. A well-tended garden is your best defense against a rampaging horde of undead. Keep the zombies at bay with an array of deadly plants and well-aimed lawnmowers. With Plants vs. Zombies, the fun never dies!
Help Maxwell acquire the Starite by creating any object, bringing it to life and using it to solve each challenge. Let your imagination run wild in this groundbreaking puzzle game. Summon to life a 'colossal, winged car' or a 'shy, frost-breathing, robotic hippopotamus'! If you can think it, you can create it.
You are marooned on the shores of an infinite blocky world. Explore, mine resources, craft tools and weapons, hunt, make traps and grow plants. Build a shelter to survive nights and share your worlds online. Ride horses or camels and herd cattle. Blast your way through the rock with explosives. Build complex electric devices. Possibilities are infinite in this sandbox survival and construction game.
Your one and only mission in this room escaping puzzle game is to find the way to open different doors and exit each and every room the adventure has to offer. How to play: Find and combine objects to solve puzzles. Beat each level by unlocking the door and escaping the room!