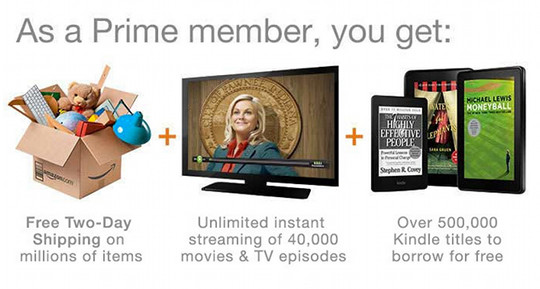 So the big news today is that Amazon has decided to increase the price of Amazon Prime from $79 per year to $99 per year. The new price goes into effect on March 20th, 2014.
This come just five months after Amazon raised the threshold for their Super Saver Shipping (or as I like to call it, Super Slow Shipping) from $25 to $35 per order.
The thing with Amazon Prime is that it's a lot of smoke and mirrors. I don't know how people keep falling for it. It's not worth paying $79 per year, much less $99. And with all the hidden charges it costs a heck of a lot more than that. Granted the free ebook per month and streaming videos that also come with Amazon Prime are enticing, but the list of ebooks is limited and Netflix's video selection blows Amazon's out of the water.
My biggest problem with Amazon Prime is that Amazon claims that Prime members get "free" 2-day shipping on most orders shipped or fulfilled by Amazon. But that is a flat out lie. In many cases you are paying more for that so-called free 2-day shipping.
I gave Amazon Prime a trial run a few months ago for the second time in the past few years, and unlike most people I'm not buying into Amazon's clever marketing tactics.
All you have to do is look at the price for items with Amazon Prime 2-day shipping. A lot of the time they cost more than the same exact item without Amazon Prime. You are paying for the extra shipping cost with an inflated price. And then you have to pay the extra $99 per year in subscription costs to boot.
Here are some random examples I found with a quick look on Amazon:
Beats Solo Headphones – If you use Amazon Prime these will cost $149.99. But if you chose to order them from NickTechShop from the list on the right, they cost $139 with $5.49 for shipping. Right there you are paying $4.51 for "free" shipping.
SanDisk Sansa Clip 8GB MP3 Player – Amazon's free shipping price for this item is $56.04. The non-Amazon price is $54.20 with free shipping.
Kong Dog Toy – This item is eligible for free shipping through Amazon for $12.59. Or you could order it through a 3rd-party merchant also with free shipping for $12.03.
The bottom line is if you order those three items without using Amazon Prime or Super Saver Shipping you'll save nearly $7. Amazon can call it "free" shipping all they want but that doesn't make it true.
These are just a few random examples and the prices often don't work out like this, but it goes to show that Amazon Prime isn't all its cracked up to be. There are a number of items that you'll end up paying more for to get that "free" 2 day shipping. In the end you are paying a lot more than just $99 per year for the subscription costs.