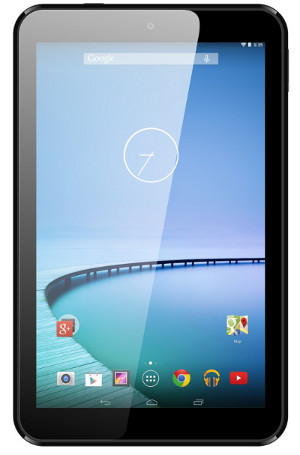 My favorite budget tablet last year was undoubtedly the Hisense Sero 7 Pro, which is pretty surprising given all the competition in the budget Android tablet market and the fact that Hisense had never even made any tablets before.
Now Hisense is moving forward with at least one new tablet this year, called the Hisense Sero 8, which is set to be released in the UK around the end of this month.
So far there hasn't been any official announcement from Hisense about the Sero 8 tablet, and they still just show their two 7-inch tablets on their website, but a pre-order listing for the Sero 8 has appeared on a UK website.
I've listed the Sero 8's specs below. It's a budget tablet that doesn't really look all that interesting, to be honest. But if there's a Sero 8, it begs the question is there a Sero 8 Pro?
Last year Hisense released two tablets for their first offering, the Sero 7 LT and the Sero 7 Pro. The lite model was pretty basic like the Sero 8, but it sold for under $100. The Pro model on the other hand at $150 had a lot more bang for the buck.
If there's a Sero 8 Pro in line with the price and specs of last year's Sero 7 Pro, it could be a tablet watch.
Hisense Sero 8 Specs
8-inch IPS display
Resolution: 1280 x 800
5 point capacitive multi-touch
Android 4.4 KitKat operating system
Rockchip RK3188T, 1.6GHz Cortex A9 Quad Core processor
1 GB RAM
16 GB storage capacity
Micro SD slot, up to 32GB
Wifi: 802.11b/g/n (2.4G)
Bluetooth 3.0
3.5mm earphone Jack
2MP Rear Camera
0.3MP Front Camera
4000mAh battery
Battery life: up to 7 hours
Dimensions: 208.5 mm x 129.5 mm x 10.5 mm
Weight: 450 grams