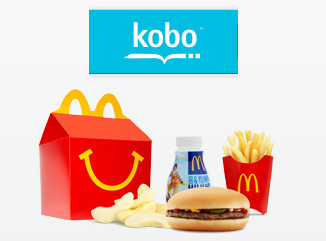 Kobo announced today a new partnership with McDonald's fast-food restaurants in the UK to give away free children's ebooks with the purchase of every happy meal.
I hope they are still giving out toys because can you imagine the look on a little kid's face when he/she pulls out a coupon for an ebook download instead of a Spider Man toy?
Here's more from the press release:
Launched today (Wednesday 30th April) in conjunction with the new 'Secret Seven' Happy Meal book promotion, an e-book voucher will feature on every Happy Meal box enabling parents to download a free children's e-book compatible with a wide range of electronic devices and operating systems.
I'm not sure that sentence is put together properly. Regardless, kids in the UK are getting ebooks with Happy Meals.
The new ebook voucher program is apart of McDonald's "Happy Readers" campaign. The ebook tie-in is with Enid Blyton's Secret Seven series, published by Hodder Children's Books. The promotion will be running for five weeks in McDonald's restaurants across the UK from Wednesday, April 30th to Tuesday, June 3rd.
According to the press release, six short stories from the Secret Seven collection will be available in-stores as part of the Happy Meal eBook promotion. Two additional Secret Seven and Famous Five ebooks will also be available to parents and kids using a £1 book voucher that is now featured on the side of the Happy Meal box. The voucher is redeemable at WHSmith or Eason. The free Kobo ebook download will be available at Kobo/Happy Readers until the 17th of June.
This isn't the first time that McDonald's has given away ebooks in Happy Meals, but it's the first time a major ebook retailer like Kobo has gotten on board with it.