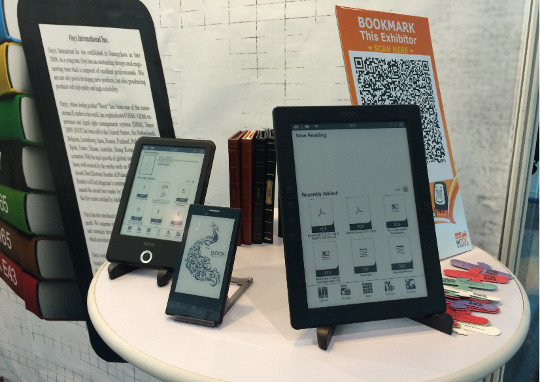 Charbax over at ArmDevices has posted a YouTube video filmed at the Hong Kong Electronics Fair showing a couple of upcoming Android-powered ebook readers from Onyx, the Boox T68 and M96.
The Onyx Boox T68 looks especially interesting. It uses the same 6.8-inch 265 dpi screen (1440 x 1080 resolution) as the Kobo Aura HD, but it has a lot more features going for it. The T68 has Android with Google Play, physical page turning buttons, Bluetooth, audio support, and two point capacitive touch—all things the Kobo Aura HD lacks.
The T68 also includes a frontlight, microSD card slot, and Wi-Fi. It has everything it needs to be one of the best ebook readers ever, if it can deliver. I hope to get my hands on one to review later this year. The representative in the video says that the T68 will go into mass production in the middle of June.
Onyx also has a 9.7″ E Ink ebook reader that runs Android called the Boox M96. The screen resolution is 1200 x 825. This model doesn't have a frontlight and it uses a digitizer touchscreen instead of capacitive.
The video doesn't show either device in action very much, but it does show the full list of specs:
Onyx Boox T68 Specs
Display: 6.8″ E Ink Pearl V220
Resolution: 1440 x 1080
Touchscreen: Capacitive (two point)
Operating System: Android 4.0 (comes with Google Play for installing apps)
Battery: 1700mAh Polymer Li-on
4GB internal storage space
MicroSD card slot for cards up to 32GB
Frontlight
Wi-Fi
Bluetooth
3.5mm headphone jack
Cortex-A9 1GHz processor
512MB RAM
Supported eBook formats: PDF, EPUB, (Adobe DRM) TXT, DJVU, HTML, RTF, FB2, DOC, MOBI, CHM, PDB
Dimensions: 194.2 x 132 x 8.8mm
Weight: 250 grams
Onyx Boox M96 Specs
Display: 9.7″ E Ink Pearl V220
Resolution: 1200 x 825
Touchscreen: Digitizer with stylus
Operating System: Android 4.0 (comes with Google Play for installing apps)
Battery: 1600mAh Polymer Li-on
4GB internal storage space
SD card slot for cards up to 32GB
Wi-Fi
Bluetooth
3.5mm headphone jack
Dimensions: 241 x 178 x 11mm
Weight: 580 grams
Onyx Boox T68 Android E Ink E-readers