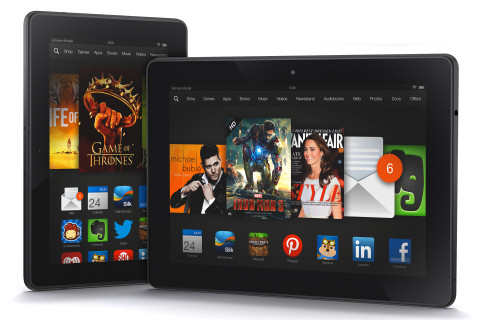 The Kindle Fire HD may be a little outdated, having been replaced by the newer HDX tablets last fall, but when it comes to getting a good deal this current offer is pretty hard to pass up.
Amazon local deals is giving out vouchers for $50 off a certified refurbished Kindle Fire HD 8.9″ tablet.
That takes the price of the 16GB model down to $149, and the 32GB model down to $179.
Amazon has been dropping the price of last year's 8.9″ Kindle Fire HD for awhile now, but this is by far the lowest price I've ever seen it go for.
For some reason Amazon has continued to sell the 8.9″ Kindle Fire HD alongside the newer 8.9″ HDX ever since it was released. Right now new ones go for $229 for 16GB and $299 for 32GB.
The price differences are interesting. You save $120 by getting a refurbished 32GB model, and $80 for 16GB. The certified refurbished Kindles come with the same 1 year warranty as new ones so getting refurbs is a good way to save money.
In order to get the sale price you need to first claim the $50 voucher from Amazon local. The deal expires in 10 days, or when they run out of units. The coupon will automatically get applied to our Amazon account, then you have until June 13th to use the $50 off coupon to purchase a refurbished 8.9″ Kindle Fire HD.
As far as specs are concerned, it would be pretty hard to find a similar large-screen tablet for anywhere near $150. The Kindle Fire HD has an 8.9-inch IPS display with a resolution of 1920 x 1200 (254 ppi). It has a 1.5 GHz dual-core processor, a front-facing camera, Bluetooth, 10 hour battery life, dual band Wi-Fi, and dual stereo speakers. The HD models from last year also feature a micro-HDMI port, something missing on the newer models.