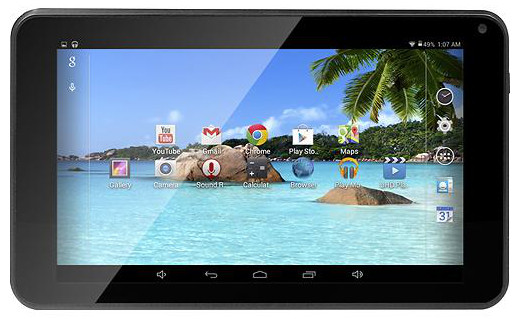 For some reason I was over at Best Buy's website browsing through tablets when I came across a new listing for the ultra-cheap DigiLand DL 7 tablet.
It's a 7-inch Android tablet with a 1.5 GHz dual-core processor that runs Android 4.4 KitKat and comes with front and rear cameras, 4GB of storage space, 512MB DDR3 RAM, and a memory card slot.
All that for $49 bones.
Granted when you dig a little deeper, the specs aren't very good, but it's amazing just how cheap Android tablets have become over the past couple years. I guess I shouldn't be surprised. Amazon has been selling crummy imported tablets for $50 for months now, even some with HDMI ports, like the ProntoTec 7.
But the DigiLand DL 7 is the first $50 tablet I've seen that runs Android 4.4 KitKat, Google's latest operating system for tablets.
A few years ago a tablet with similar specs would've sold for upwards of $150-$200. The good news is the price is a significant decrease; the bad news is the hardware is relative to a tablet from a few years ago…
DigiLand DL 7 Tablet Specs
7-inch TFT-LCD screen
800 x 480 resolution
5-point capacitive multitouch screen
200 cd/m² brightness
Android 4.4 KitKat
4GB NAND flash memory
Memory card slot for cards up to 32GB
AllWinner A23 ARM Cortex A7 1.5GHz processor
Mali400-MP2 graphics
Wi-Fi (802.11b/g/n)
0.3MP front and rear-facing cameras
1-cell Lithium Polymer battery (Li-Polymer) 2100 mAh
1 speaker, 3.5mm headphone jack, mic
Micro USB 2.0 port
Dimensions: 7.5″ x 4.3″ x 0.4″
Weight: 9.6 ounces
Battery life is usually one of the weakest links with budget tablets. There's no mention of battery life for the DigiLand DL 7 at Best Buy, but it's probably in the 3-4 hour range.
If you happen to pick up one of these tablets let us know what you think in the comments section below.