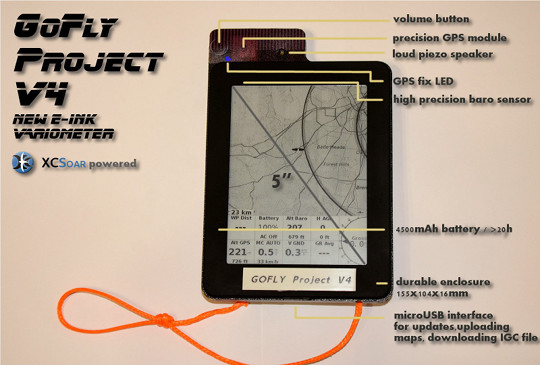 A necropost over at MobileRead led me to an interesting project that I hadn't seen before involving a Kobo Mini and some major hacking.
Over at GoFly Instruments, they've turned the Kobo Mini into an E Ink navigation device of sorts that is designed for use with paragliders, hang-gliders, and sailplanes.
The device is called the GoFly Project V4, and it barely resembles the Kobo Mini with all the hacks and mods done to it.
Basically they've taken a Kobo Mini and added a GPS chip, an extra battery, speakers, a barometer, variometer, and open source XCsoar software, among other things.
Not being a glider pilot, most of the lingo is over my head. But here are some of the key points:
Runs XCsoar 6.7.x software
Kobo's software is still onboard too, so you can read ebooks while parasailing 🙂
Estimated 20 hours battery life
E Ink screen is easily readable in direct sunlight (5-inch 800 x 600 E Ink Vizplex)
Includes airspace maps, TOPO maps, flight data computer, flight assistant
Environmental resistant bottom cover enclosure (marine grade CNC cut plastic)
Additional internal 3500mAh battery (+ original 1000mAh battery) gives total 4500mAh
66channel gps module (Mediatek 3339) with 2Hz data output located outside device with good sky view
Informational GPS fix LED (LED is blinking blue if there is no GPS fix, LED goes dark if GPS fix is ready)
Precision acoustic variometer and baro data with 2Hz output based on MS5611 sensor with new dedicated piezo speakers amplifier
Adjustable variometer settings
20mm piezo speaker for wide range sound spectrum and low power consumption
Internal 2GB SD card with plenty of room for tracks and maps
Micro USB interface to charge, upload maps/airspace, download IGC tracks
Dimensions: 155 x 104 x 16mm
The GoFly Project V4 sells for $249 plus shipping, and is available in black or white. Or if you already have a Kobo Mini and possess technical know-how and soldering skills, they sell a kit with all the parts to do the mods yourself for $150 plus shipping. More information, including the user manual, can be found by following the link below.
GoFly Project V4 Video Demo