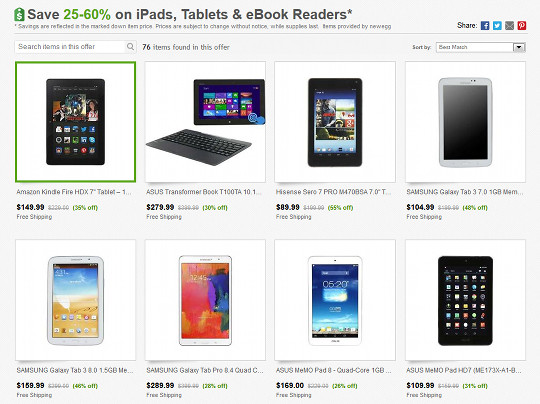 I ended up at eBay today and came across a huge tablet sale. Newegg is running a promotion where they've marked down 76 iPads, tablets, and ebook readers by 25%-60%.
There are only a few iPads and ebook readers on the list, but there are tons of tablets from Asus and Samsung. The 7″ Kindle Fire HDX is on the list too, new, and it's marked down to $149—the lowest price I've seen, and $80 off the regular price.
The weird thing is the same exact tablet is listed at $199 on Newegg's website, so apparently the sales are only being offered through Newegg's eBay store.
Most of the tablets on the list appear to be refurbished, but not all. At lot of them are older models like the Samsung Galaxy Tab 2 and 3, but there are some newer models as well, like Galaxy Tab Pro models.
There are a number of tablets for under $100, some Asus Memo pads, Lenovo IdeaTabs, and the Hisense Sero 7 Pro. A few Nook tablets made the list too.
There are even a couple of old Sony ebook readers (PRS-505 and PRS-300) on sale for $49, but considering their age that's not exactly a very good deal.
Nonetheless, some of the tablet deals are pretty good. I'm not sure how long the sale lasts, so they'll probably jack the prices back up five minutes after I post this article (that's how it usually works out). Here's the link for as long as it lasts: