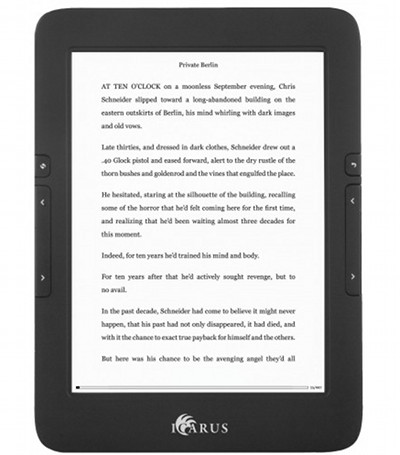 The Onyx Boox T68 isn't the only new ebook reader that runs open Android. A new version of the Icarus Illumina HD (E653 series) has just been released in the US and Europe.
It sells from IcarusReader.com for 119 euros, or 135 euros bundled with a cover. In the US it sells from Amazon.com for $182.95, plus $5.04 for shipping, and that includes a cover and four color choices.
The folks at Icarus were nice enough to lend me one to test out, so expect some reviews over the next couple weeks.
The Icarus Illumina HD has a 6-inch E Ink Pearl screen with a resolution of 1024 x 758. It also sports a frontlight, a capacitive touchscreen, page buttons along both sides of the screen, Wi-Fi, a 1Ghz dual-core processor, 512MB of RAM, and a microSD card slot.
The Icarus Illumina HD isn't quite as advanced as the Onyx Boox T68—it doesn't support audio, Bluetooth, or come with Google Play—but it runs a newer version of Android. Instead of Android 4.0.4, the Illumina HD runs 4.2.2 (both are Jelly Bean).
I've only been using the device for a couple of days, but the software seems to run a little smoother and faster than the T68's. For one, the Illumina HD enters partial refresh mode automatically when scrolling without having to manually turn it on, and it works quite well. The Kindle app comes pre-installed and it works better than on the T68, especially when shopping the Kindle store, which is almost impossible on the T68 for whatever reason.
So far it looks like a promising ereader. The built in reading app is pretty basic, but other apps can be installed. Without Google Play onboard it's harder to get apps, but I installed both the Amazon appstore and 1Mobile appstore and both work well enough to install Android apps. Except the battery has started going down much faster since doing so; now I have to figure out which app is sucking extra power. Regardless, I've heard that Icarus might be including an app store in the near future with only apps optimized for E Ink and tested on E Ink ereaders—that's a good idea and is something to look for.
I've got a lot more testing to do…check back soon for a full review.