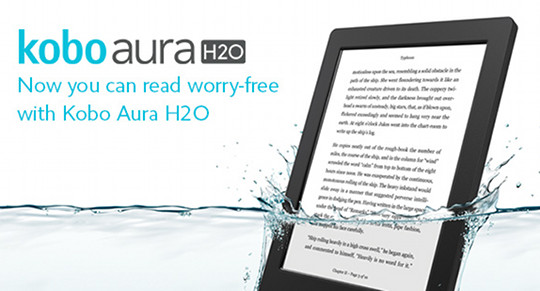 Kobo has officially unveiled their latest ebook reader. It's called the Kobo Aura H2O and is basically an updated version of the Kobo Aura HD.
The new ereader will launch on October 1st, with preorders starting September 1st from Kobo.com and select retailers (in Canada Chapters.Indigo is already accepting preorders). The price is $179 in the US and Canada; in the UK and Europe the price is £139/€179.
The new Kobo Aura H2O, like the name implies, is waterproof. In fact it's even IP67 certified, which means it can withstand being dunked 1 meter deep into water for up to 30 minutes. Additionally, the device is also dustproof.
The Kobo Aura H2O has the same size screen as the Kobo Aura HD, but it's a newer model, Carta instead of Pearl. The resolution is 1430 x 1080 (265 dpi). A frontlight is included as well. Kobo doesn't mention it specifically anywhere, but it appears to use an infrared touchscreen like its predecessor. The specs do note it has a multi-touchscreen, which the Aura HD doesn't have natively but can easily be added with a simple multi-touch patch.
As the picture below shows, the angled back on the H2O is different from the Aura HD. The angle at the top is especially unique.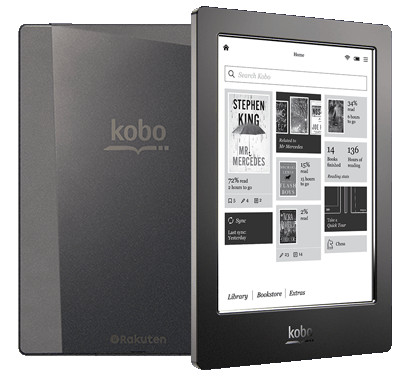 Other than the new design and upgraded screen, everything else appears to be mostly the same as the Aura HD, minus the dedicated frontlight button. The Aura H2O is slightly larger but thinner and lighter. It has Wi-Fi, a 1GHz processor, 4GB of internal storage, a microSD card slot for cards up to 32GB, and a battery that can last up to 2 months on a single charge.
Kobo is calling the Kobo Aura H2O the world's first premium waterproof E Ink eReader. Apparently they don't consider the PocketBook Aqua or Waterfi Kindle Paperwhite to be premium ereaders.
I plan on purchasing a Kobo Aura H2O to review. Check back after it's released for more details and video walkthroughs.