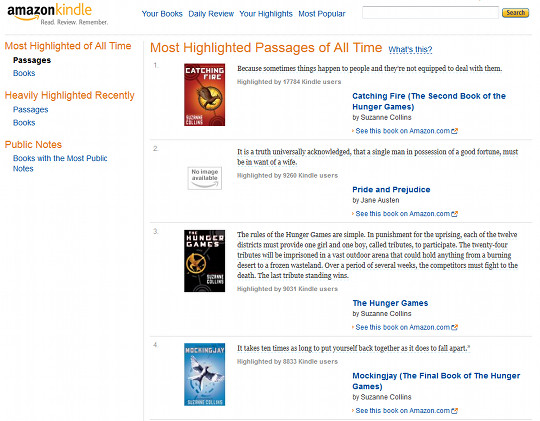 One of the benefits that Kindles offer is the ability to easily access and edit all the notes and highlights that you've added to Kindle books.
Most reading apps and ebook readers offer the ability to add text notes and highlights to ebooks, but in most cases there is no option to export those annotations to access them outside of the ebook.
With Kindle ereaders there are a couple different options. All notes and highlights get saved to a basic text file on the Kindle's drive. Just plug the device into a computer with a USB cable and transfer the My Clippings.txt file. The way the file is formatted it's hard to use, but there are some converting options listed below.
Another option is to visit your dedicated Kindle Notes & Highlights page. All the notes and highlights that you've ever added to any Kindle ebook appears on that page. The page isn't directly linkable. Here's how to find it:
Go to https://kindle.amazon.com/ and click on the "Your Highlights" link at the top of the page (you'll have to sign in with your Amazon account first).
From there you can delete highlights, attach notes to them, jump to the location in the ebook, copy and paste, and edit text notes.
Tools for Kindle Notes and Highlights
Clippings.io – This works with the Kindle's "My Clippings.txt" file for Kindle ereaders, and there's also a Google Chrome Extension that can be used to import Kindle notes and highlights from Kindle apps for iOS, Android, and Windows. There are export options for Word, Excel and PDF, clippings can be added to Evernote, there are editing, organizing and sharing options too.
DaleyKlippings – A free utility created specifically for managing the Kindle's "My Clippings.txt" file. It exports to PDF, Word and Excel and also integrates with Evernote. Works with Windows and Mac computers.
Clipper – Clipper is an online tool that can reformat your Kindle's "My Clippings.txt" file to make it easy to read, download, print, and share your Kindle notes and highlights.
Kindle Clippings Manager – This utility works with the My Clippings.txt file to make managing notes and highlights easier—it allows clippings to be sorted and exported. Works with Mac and Windows computers.