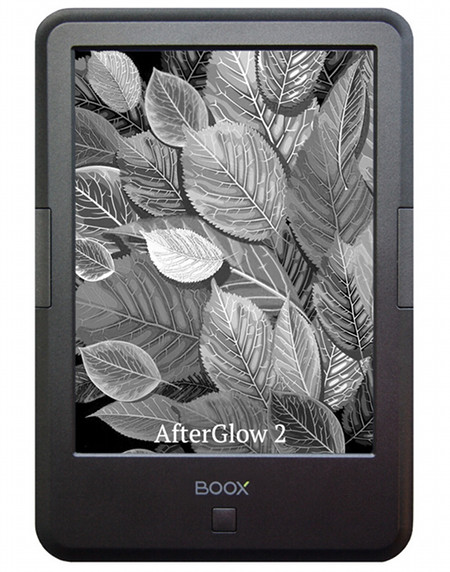 There's another new ebook reader from Onyx that was just released yesterday through Onyx-Boox.com (Arta Tech). It's called the AfterGlow 2. It's a lot like the Boox T68 and Boox M96, but it's smaller and comes with newer software and a faster processor.
The AfterGlow 2 has a 6-inch E Ink screen with a resolution 1024 x 758. It has a capacitive touchscreen and a frontlight. The specific screen tech is not mentioned in the specs—it's probably Pearl.
The new AfterGlow runs Android 4.2 and comes with Google Play onboard to download Android apps. Both the T68 and M96 run Android 4.0.2. The newer software claims to optimize memory and improve touchscreen responsiveness and accuracy.
Another upgrade with the AfterGlow, it has a faster processor that clocks in at 1.2 GHz instead of 1.0 GHz.
Other features include physical page buttons, audio support via a headphone jack, IVONA text-to-speech, a microSD card slot, and up to 8 weeks battery life.
Right now the AfterGlow 2 is available exclusively from Onyx-Boox.com for 124 euros. That equates to about $154 USD.
Onyx Boox AfterGlow 2 Specs
6" inch E Ink display.
1024 x 758 px resolution (212 dpi).
Capacitive touchscreen (2-point).
Built-in frontlight.
Android 4.2.2 OS with Google Play.
Processor: Dual-Core Cortex A9 1.2GHz.
512 MB RAM.
4GB internal storage space.
MicroSD card slot (up to 32GB).
MicroUSB 2.0.
3.5mm headphone jack.
Wi-Fi (802.11b/g/n).
Text-to-speech: IVONA™ (pre-installed with Polish and English voices).
Pre-installed apps: Internet Browser, Calculator, Calendar, Clock, Dictionary Tool, Downloads, Midiapolis Drive, Email, Gallery, Google Settings, Google Play™ Store, Music player, Midiapolis News Reader, OReader (a.k.a AlReader), and internal apps: OnyxReader, FBReader, Oreader, Onyx Neo Reader.
Supported formats: EPUB and PDF (reflow) with Adobe DRM (ADEPT), MOBI (without DRM), TXT, RTF, HTML, DOC, FB2, DjVu, ZIP; Audio: MP3, WAV; Images: JPG, BMP, PNG.
Battery: up to 8 weeks; 1700mAh Li-Polymer.
Dimensions: 170 x 117 x 8.7mm.
Weight: 184 grams.