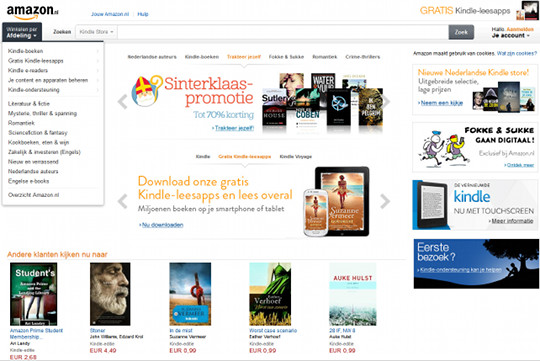 Today Amazon launched a localized Kindle store in the form of a dedicated website, Amazon.nl, specifically for residents of the Netherlands. The new Dutch Kindle store features a selection of over 3 million ebooks, but only about 20,000 are Dutch-language ebooks, and of those just 1221 were written by Dutch authors.
Amazon is also advertising their Kindle ebook readers (but not the Fire tablets) on their new Amazon.nl website, including the Kindle Voyage, Kindle Paperwhite, and entry-level Kindle, but the site redirects to Amazon's German store to purchase. Kindles can also be ordered through Amazon UK.
Amazon's Kindle reading apps have also been updated to add localized support for the Dutch language.
Amazon will be up against Bol.com, Holland's current leading ebook retailer, with an estimated 60% market share. Kobo is partners with Bol.com, and together they offer over 30,000 Dutch ebooks, giving them a decided edge over Amazon for local content, but Amazon's overall library including other languages is larger.