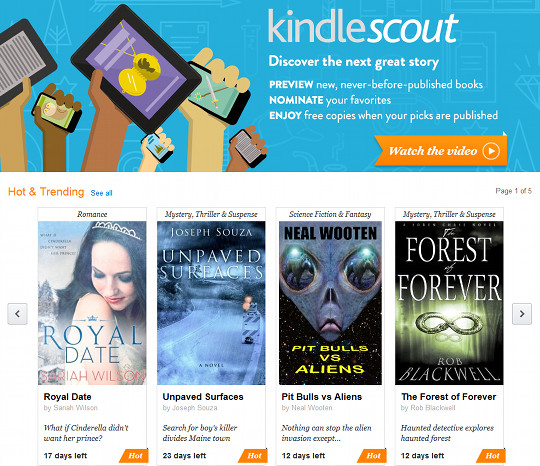 A couple weeks ago, Amazon launched a new program called Kindle Scout. It's a campaign-style ebook publishing platform where readers can nominate new unpublished books to be published on the Kindle platform.
Authors submit their completed book and then excerpts get posted on the Kindle Scout website for readers to nominate. The sample usually consists of the first chapter or two, about 5,000 words.
You can read the sample online or have it sent to a Kindle device or app.
Each title gets listed for 30 days. During that time readers can nominate books they like. Each person can nominate up to 3 titles at one time.
After the 30 days is up, nominations are tallied and books with lots of votes get reviewed by the Kindle Scout editorial team. If they chose it for publication, everyone who nominated it gets a free copy of the ebook when it's published.
Authors get signed with Kindle Press and receive 5-year renewable terms, a $1,500 advance, 50% ebook royalty rate, and addition marketing by Amazon.
On the surface, Kindle Scout sounds like a good idea. But when you start to delve a little deeper and think about it from both sides, there are a few holes in the program.
Kindle Scout seems like a good opportunity for unpublished writers to get their work out on the screen and in front of reader's eyes, but ultimately it seems like a waste of time for readers.
Is the power of a free ebook enough to draw interest from people to spend time reading work that's most likely not going to get published?
From a reader's perspective the whole thing is kind of torturous when you think about it. Scenario A: The sample you spend time reading is total crap. You don't finish reading it and you don't nominate it. Scenario B: You like the book. It has an intriguing plot and great characters that you get attached to, so you nominate the book. But then it doesn't get chosen for publication so you never get to read the rest of it, instead you're left hanging hoping maybe you'll see it published somewhere else eventually but who knows if that's ever going to happen.
The problem is the only positive outcome for the reader is when the book gets chosen to be published. Otherwise it's all an act of futility. You might as well go get a job being a slush-pile editor and at least get paid for your time.
Kindle Scout might not be the best option for authors either. Sure, getting a $1500 advance is nice, and the 50% royalty rate is higher than traditional publishers offer for ebooks, but if you self-publish through Amazon you can get 70%. Plus that way you can still publish the ebook on other platforms. If the book gets selected for publication through Kindle Scout, the ebook rights remain exclusive to Amazon while signed with them.
What do you think? Is Kindle Scout a good idea? Do you plan to use it?