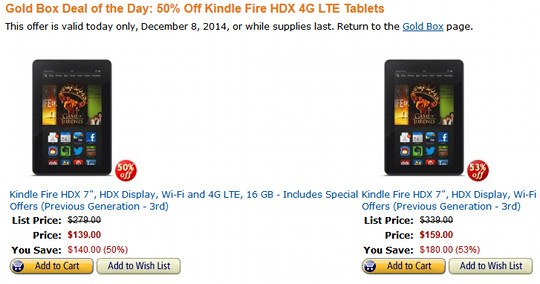 Cyber Monday was one week ago today, but there weren't many tablets and ereaders on sale this year. Today is Green Monday (apparently that's a thing now too) and there's some better deals than Cyber Monday.
Tablets
LG G Pad 8.3 Tablet – On sale for $179 on eBay via Newegg. Probably the best deal on this list in terms of specs and price.
Kindle Fire HD 7 – This year's new Fire HD 7 is marked down by $25, so it's $114 for the 8GB model and and $134 for 16GB.
Kindle Fire HDX – The 7″ Fire HDX is marked by $20 for 16GB, $40 for 32GB, and $60 for 64GB. The 4G LTE version is marked down by $140, making it just $139. It's actually $40 cheaper than the WiFi-only model.
Fire HD Kids Edition – The Kids versions of the Fire HD are marked down by $30 off the regular price, making the 6-inch one $119 and the 7-inch $159.
Kindle Staples Deal – Staples is running a deal on Kindle devices where they are giving away $25 – $30 gift cards with a purchase. Devices include the $79 Kindle, Kindle Paperwhite, Fire HD 7 and Fire HDX tablets. Some of which are on sale as well.
Samsung Galaxy Tab Pro – The 8.4″ Galaxy Tab Pro is on sale manufacturer refurbished via eBay for $189 (Best Buy also has them on sale new for $229).
Samsung Galaxy Tab 4 Nook 7 – B&N has the 7-inch Nook Galaxy Tab on sale for $159.
eReaders
Nook Touch GlowLight – Groupon has the older E Ink Nook Touch with GlowLight on sale for $62.99 for manufacturer refurbished units. That's $37 off the price of a new one. Update: Initially I thought this was the newer Nook GlowLight, but it's the older one so it's not really a very good deal at all. The $79 Kindle or the refurbished Paperwhite below is a much better value than this outdated thing.
Kindle Paperwhite – Unfortunately Amazon doesn't have any of their E Ink Kindles on sale right not, but the certified refurbished Kindle Paperwhite is $99, $10 off the usual price and $20 off the price of a new one.
Kobo Aura – At some point the Kobo Aura is supposed to go back on sale for $99, but right now it's still showing $139. Keep checking because Kobo has this ad saying it's on sale, so it's bound to happen sooner or later.
Also see the Staples deal mentioned above for Kindle Paperwhite and $79 Kindle deals.