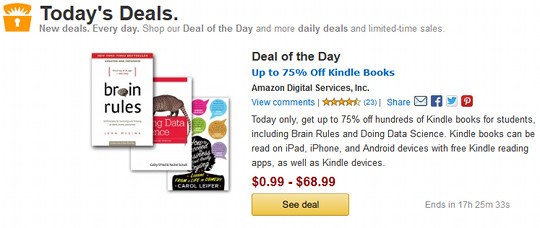 Today Amazon's main gold box deal of the day includes a selection of Kindle Books for students with prices up to 75% off list price.
There are hundreds of Kindle books on sale for students, including Brain Rules and Doing Data Science.
Like always, the Kindle books can be read on Kindle ereaders and Fire tablets, as well as with Kindle reading apps for iPad, iPhone, Windows, Mac, Blackberry, and Android devices.
This is a one day only sale valid on January 13, 2015.
Aside from the gold box deal of the day, there are some other deals on Kindle ebooks as well.
The Big Deal: Kindle Books Up to 85% off – From January 9th through January 25th 2015, save up to 85% on over 400 Kindle books.
Kindle Book Sale: Up to 65% off – This list of Kindle books are on sale through January 25th, and includes fiction titles from a wide range of genres.
50 Kindle Book Deals for $2 Each – On this list select Kindle books are available for $2 each. Deals change the last day of each month.
25 Kids' Books, $1 Each – This is a list of Kids' books for $1 each. The sale ends February 1st.