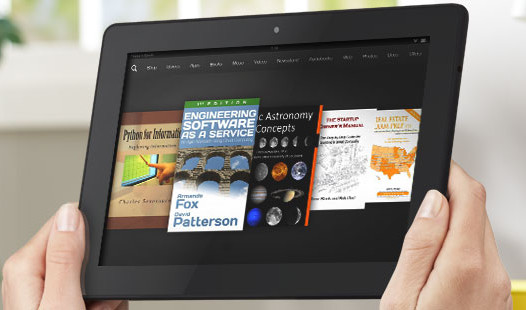 Today Amazon announced the release of a new digital textbook creator tool for educators and authors to easily create digital textbooks, called eTextbooks, and other educational content to promote and sell on the Kindle Store.
The new program is called KDP EDU. It's a new division to the Kindle Direct Publishing platform. KDP EDU is designed to prepare, publish and promote textbooks (the three p's) and educational content in Kindle Stores to reach millions of students worldwide.
"Kindle Textbook Creator makes it easy for anyone to take any PDF and create a richly featured and widely available eTextbook," said Chuck Kronbach, Director, Kindle Direct Publishing. "We look forward to seeing how authors use the new tool and getting their feedback to guide us in adding more features to KDP EDU over time."
Currently at launch the Kindle Textbook Creator is still in its Beta phase. What KTC does is it helps convert PDF files of textbooks, course notes, study guides, and other educational content that can include complex visual information like charts, graphs and equations into Kindle eTextbooks.
Books created with Kindle Textbook Creator include features to help enhance the learning experience. There's multicolor highlights, notebooks to keep track of key info including images and text notes, flashcards to study definitions in each chapter, dictionary and Wikipedia reference, and syncing across Kindle apps and Fire tablets.
Interestingly, these type of textbooks aren't offered on Kindle ebook readers, despite carrying that brand name. Amazon's eTextbooks are offered on Fire tablets, the iPad and iPhone apps, Android devices, Mac and PC.
Textbooks really haven't taken off digitally like you'd think they would in this digital age. You gotta give Amazon credit for at least trying to bring more educational content to the Kindle Store with this new initiative.