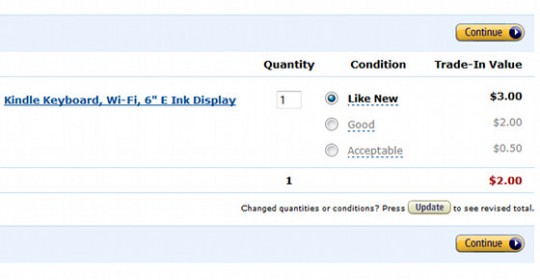 I was checking trade-in values the other day over at Amazon for Kindle ebook readers and Fire tablets, and was surprised to find that trade-in values have fallen off a cliff since the last time I checked.
Most models aren't even available for trade-in anymore. Last year I traded in a couple of old Kindles for a pretty good stack of cash (well, Amazon store credit anyway).
I was able to get a little over $80 for the first generation Kindle Fire HD, and another $70 for the first gen Kindle Paperwhite.
I was hoping to find similar trade-in values this time around, but unfortunately that is no longer the case.
In fact I found a couple trade-in prices so ridiculously low that they warrant being publicly laughed at and mocked in an article like this.
First up, the trusty Kindle Keyboard. They haven't been made for years but you can still buy one used in good shape for about $60-$65. If you want to trade-in a Kindle Keyboard at Amazon, however, you'll be lucky to get $3. And that's if it's in "like new" condition. One in good working condition will only get you $2 to spend.
Just when I thought that was bad, I scrolled down the page a little further and saw the first generation E Ink Nook for trade-in with a $1 value. Yep, just one measly dollar for an old Nook.
Somehow, it gets even worse. The Aluratek Libre has a trade-in value of $0.25.
At least they've got a $15 value on the old Sony PRS-900 and PRS-600. And somehow almost $50 for an outdated Book 60.
The funny thing is they expect these trade-in devices to be fully functional and in good working order; you can't just send an old broken device to unload, not even for a quarter.
I mean really? Who's going to even bother taking the time to authorize a trade-in, print out the shipping label, package the device up, and drop it off at a UPS location for at best $3.
Nuts to that. I guess I'll just sell my older devices on eBay instead.