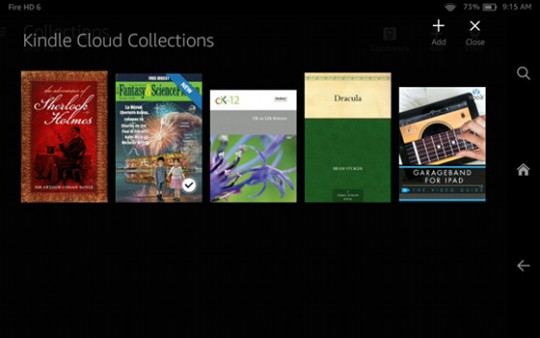 Amazon introduced "cloud collections" back in November of 2013 to help keep Kindle content organized and have everything synced between Kindle apps and devices.
Some people like cloud collections, and others can't stand the limitations. A lot of people are confused about how cloud collections function exactly, so let's go over how they work.
First off, the term "cloud" is a bit confusing. Calling them "synced collections" would make more sense, but that doesn't quite have the same ring to it.
The first thing that often confuses people about cloud collections is that you cannot access or create them in the "cloud" or from your Amazon account. Cloud collections can only be viewed and created on a Kindle device or with a Kindle app that supports cloud collections (see list below).
You can organize your ebooks, active content (Kindle Paperwhite only), and personal documents into custom collections, but newspapers, magazines, and blogs aren't supported.
You can have the same title appear in multiple collections. Also, removing a collection or an ebook from a collection doesn't delete the book from your device.
How to Create Cloud Collections
The process of creating collections is basically the same across Kindle devices and apps. From the homescreen, tap the menu button and choose to create a new collection. After naming the collection, you get the option to select all the titles from your account to add to it. Note that content doesn't have to be downloaded to add it to a collection.
With Fire tablets, swipe from the left edge of the screen from the book list. You can also drag items together to create collections on the homescreen below the carousel.
To edit or delete a collection, press and hold it from the homescreen. Note that any changes you make will sync with the cloud and your other devices and apps as well.
How to View by Collections
Viewing cloud collections isn't all that obvious at first. You need to filter the items on your homescreen by selecting to view "Collections" from the drop-down list, which is set to "All Items" by default.
Then once you switch over to collections view, you still won't see any collections if they were added with different device or app. You have to switch over the "cloud" tab then long-press the collection to add it to your device, and then select the titles for download to get them to appear, otherwise the collection will show as empty.
Also note that any downloaded items that appear within a collection will also show up on the homescreen and in the library. Collections don't work like folders; they are more like lists.
Supported Devices and Apps
Here's the list of devices and apps that support Kindle cloud collections:
Kindle Voyage
Kindle (7th Generation)
Kindle Paperwhite 2nd Generation
Kindle Paperwhite 1st Generation
Kindle Fire HD (2nd Generation)
Kindle Fire HDX
Fire HD
Fire HDX 8.9
Kindle for iPad, iPhone, and iPod touch
Kindle for Android
Kindle for Samsung
Note that collections created on older Kindles and with Kindle for PC/Mac cannot be imported to devices and apps that support cloud collections.
Here's the link to more information and help guides at Amazon on how to Organize Kindle Content with Cloud Collections.