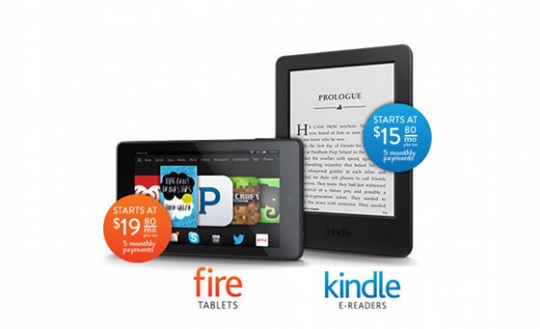 For quite some time now Amazon has been offering Kindle ereaders and Fire tablets through a monthly payments plan where you only have to pay 20% up front to get a new device.
It's actually a pretty good offer because there are no interest charges or extra fees, so the price is the exact same as paying all at once but it's broken down into 5 monthly payments instead.
That means you can get a Fire HD 6 for as little as $19.80 per month or the new 300ppi Kindle Paperwhite 3 for $23.80 per month.
There are some restrictions, however. The main points are as follows: the promotion is for U.S. residents only; your Amazon account needs to have been active for at least one year; and you need to have had a valid credit card attached to your Amazon account for at least 90 days.
It only applies to new Kindles sold by Amazon, of course. And the offer can only be used toward the purchase of one Kindle ereader or Fire tablet per customer.
Amazon doesn't advertise their Kindle Payment Plans very much so most people tend to forget about them, but they're a good way to get a new ebook reader or tablet without having to pay for it all at once, especially when no extra fees are applied.