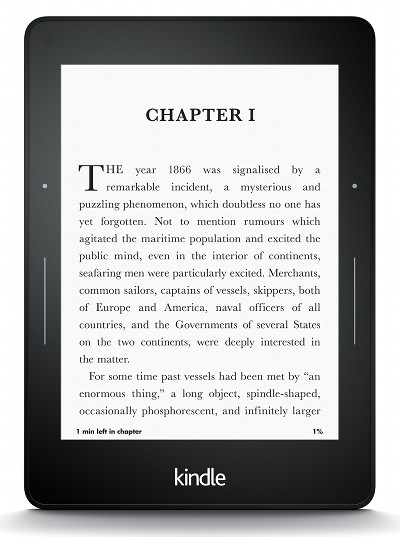 Ever since the Kindle Voyage was released back in October 2014, Canadians have been wondering when they would be able to purchase Amazon's premium ebook reader.
Then when the Kindle Paperwhite 3 was released last month and it's been available in Canada since the get-go, people are wondering what's the deal? Is the Voyage ever going to be released in Canada?
There have been lots of questions and conspiracy theories posted about it online.
Most people are pointing the finger (sometimes the middle one) directly at Amazon, saying they are the reason behind the big Kindle Voyage snub.
But that's not the case. It's actually the Canadian government that's blocking the release of the Kindle Voyage in Canada.
As it stands currently, the reason the Kindle Voyage isn't being sold in Canada is because the Canadian Intellectual Property Office has not approved the patent for the Voyage's use of haptic feedback.
The Kindle Voyage is the first and only Kindle to use haptic feedback, which gives off a slight vibration when you activate the page button senors, one of the main features that separates the Voyage from other devices.
The interesting thing is that Amazon has had this idea under development for a long time. The original filing date for the haptic feedback patent dates back to 2010. Amazon then issued an examination request the first of January 2015, but Canada has yet to approve it.
That's why the Kindle Voyage can't be sold in Canada. There are still unresolved patent issues. Until Canada approves the haptic feedback patent, the Voyage won't be crossing the northern border. Simple as that.