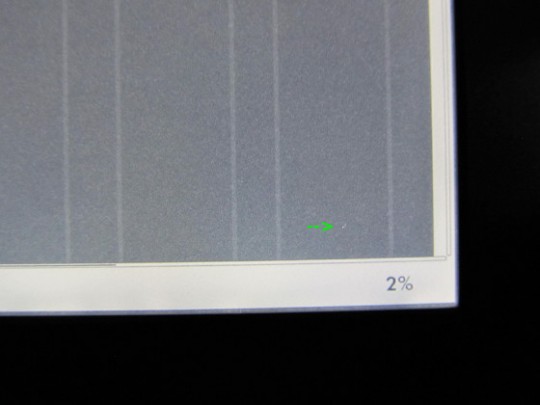 If you've ever noticed small pinholes of light on your frontlit ebook reader, you're not alone. It's actually a fairly common defect among E Ink ebook readers.
All brands are susceptible to it, Kindles, Kobos, Onyx's Android ereaders, and others. The only ebook readers immune to the issue are ereaders without frontlights, and probably the Kindle Voyage and Kobo Aura are less vulnerable to it since their frontlights are under glass.
Pinholes of light can develop over time, but it's not uncommon to get an ebook reader with the issue from the very beginning.
The Kindle Paperwhite 3 that I just reviewed last month came out of the box with a small pinhole of light visible in the lower right corner, as shown in the picture above.
I personally don't find it distracting, mostly because I always use lower light levels and frontlight pinholes are usually only visible at higher brightness settings. But if it was in the middle of the screen it would be a different story.
Some people elect to exchange their ereaders when they get one with noticeable pinholes of light shining through, which is understandable. But if it's off to the side and it doesn't catch your eye then it's probably not a big enough problem to worry about. It's a quite common issue, after all.
I've noticed with some ereaders that pinholes of light are visible but only at really wide angles, like when looking down from the top of the screen. They aren't visible at all when looking straight at the screen.
If an ereader's screen is impacted by something with sharp edges, it can tear a small hole in the frontlight layer as well, which causes a bright spot where the light shines through.
That's why it's always important to keep your ebook reader in a cover because the screens are fragile in more ways than one (E Ink screens also crack very easily). The layer used to help evenly distribute the frontlight's glow across the screen can be easily damaged.