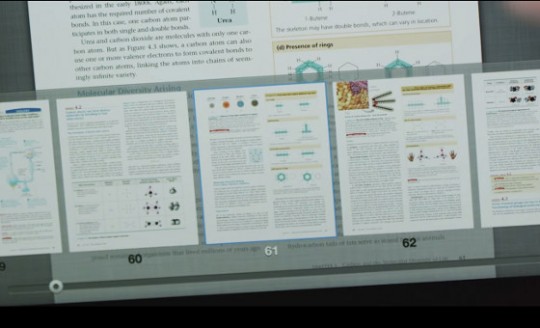 Amazon offers a number of Kindle eTextbooks to rent and buy in the Kindle Store. Many of them are just basically regular nonfiction ebooks, but some carry a specific eTextbook designation that adds some extra features.
Many of the eTextbooks are available like regular Kindle ebooks on Kindle ereaders, Fire tablets, and Kindle apps for iPad, iPhone, Android, and PC and Mac computers.
But some are print replica eTextbooks, and those aren't available on Kindle ebook readers. These titles list which devices and apps are supported under the price on the description page.
Amazon also offers eTextbook rentals on select eTextbooks. Or least they say they do but you'll hard-pressed to actually find any. They don't have a section for eTextbook rentals and there's no way to search specifically for them.
If you happen to find a textbook available for rental, you can choose a rental period of 30 to 360 days, but some have a fixed date set by the publishers. At any point during the rental period you can extend the rental period from the Manage Your Content page at Amazon.
You can also choose to purchase a rented textbook at any time. And when you do you only have to pay the difference between the current listed price and what you've already paid in rental fees.
One thing to note is that all bookmarks, highlights, and annotations that you add to rented textbooks are still accessible from the Kindle Highlights page online even after the rental expires.
Kindle eTextbook Features
For the most part Kindle eTextbooks offer the same kind of features as regular Kindle ebooks. You can add notes, highlights (multi-colored highlights are available on the Kindle iOS and Android apps), bookmarks, and lookup words in the dictionary, reference Wikipedia, run search, etc.
There are some extra features for eTextbooks that aren't available with regular Kindle books. There's a navigation panel with thumbnail images of all the pages that you can scroll through for quickly jumping around different parts of textbooks.
There's a feature called X-Ray for Textbooks that displays definitions and additional information about terms found in a textbook, which you can cross-reference with other parts of the book. Sometimes there are related YouTube videos that you can watch and Wikipedia entries to read.
Kindle eTextbooks have a Notebook feature where you can view all your notes, highlights, bookmarks, and saved images and charts in one place. You can add stars and filter the more important notes to reference later. You can export them to email and Evernote with Fire tablets.
Kindle eTextbooks also support flashcards to help with studying. You can go over flashcards after a finished chapter to review key terms and definitions. On Android and iOS devices, you have to tap the screen to bring up the option to tap the flashcard icon. You can make your own flashcards or auto-generate them from your notes, highlights and X-Ray terms.
Below is a video showing Kindle eTextbooks in action. It's mostly just a commercial but at least it shows how some of the textbook features work.
Kindle eTextbooks Video