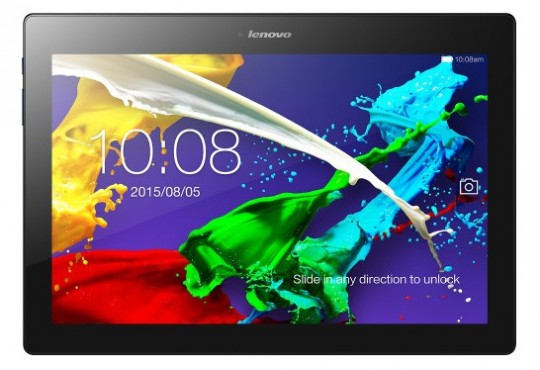 I've been using the Lenovo Tab 2 A10 as my primary tablet for the past month and I really like it. It's the best Android tablet that I've owned, and I like it enough that I got rid of all my other tablets, including a first gen iPad Air.
The Lenovo Tab 2 A10 is currently on sale for $179 at Best Buy and Amazon. It normally sells for $199, and even at that price it's a great deal and is easily the best 10-inch budget tablet on the market.
I was planning on posting a full review of the Lenovo Tab 2 A10 this week, but unfortunately I accidentally deleted the review, mistaking it for a different article that I already posted.
On the plus side I setup backups so the same thing can't happen again, but I really don't feel like re-writing the review again so I don't know if that's going to happen.
In a nutshell, the tablet has a nice high-resolution screen and the Android 5.0 operating system is zippy and smooth, and the device's 1.7GHz quad-core processor keeps things moving along quickly with no lag issues.
The overall build quality feels solid, but the back does have some flex to it and makes some creaking noises when handled—not everything can have the build quality of an iPad.
The only problem I've had with the Lenovo Tab 2 A10 tablet is there is an issue with the Dolby Atmos app. It does help give the tablet really good sound when using wired headphones or speakers (Bluetooth headphones don't make use of the Dolby sound features for some reason), but the app is buggy and sometimes causes volume issues.
For instance, the max volume level gets messed up when unplugging headphones, so the external speakers seem really quiet. But rebooting fixes the problem. Plus using a custom setting with the Atmos app and increasing the EQ levels and turning off volume leveling really seems to help make things work better.
Other than that, everything about the Lenovo Tab 2 A10 has been smooth sailing. With most Android tablets I've used in the past, I end up getting frustrated with some issue with the Android operating system, but so far Android 5.0 has been smooth as butter. I've actually experienced less problems and issues with it than iOS 8 on the iPad Air, which is something I never thought possible.
Lenovo Tab 2 A10 Specs
10-inch Full HD IPS Display.
1920 x 1200 resolution.
1.7 GHz 64-bit quad-core processor MT8165.
Android 5.0.1 Lollipop OS.
16GB internal storage space.
RAM: 2GB LPDDR3.
MicroSD card slot.
Bluetooth 4.0.
GPS.
Dual Band WiFi (2.4GHz 802.11 b/g/n + 5GHz 802.11 a).
Cameras: Rear 8MP auto-focus; Front 5MP fixed-focus.
Battery: up to 10 hours.
Weight: 1.10lbs.
Dimensions: 9.72″ x 0.35″ x 6.73″.
Price: $179 at Amazon.