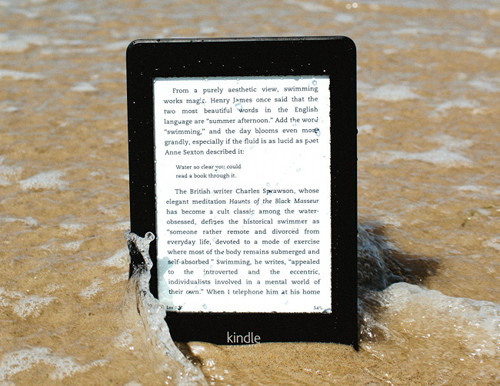 I came across a new listing for a waterproof Kindle Paperwhite over at Amazon today. The product isn't new but it's the first time it's been available from Amazon's website, and there are a few things you should know before buying.
The waterproof Kindles aren't sold by Amazon. They are an aftermarket product sold by a company called Waterfi, which waterproofs various other products as well.
I reviewed a Waterfi Kindle Paperwhite back in 2013. It was the 1st generation Paperwhite.
Ultimately the frontlight didn't survive my tests, but that was because I left the Kindle submerged in a tub of water overnight—an extreme test that admittedly isn't very realistic when it comes to real world usage.
But that's not the thing that concerns me about these Waterfi Kindle Paperwhite listings. The thing that annoys me is Waterfi never specifies which generation Kindle Paperwhite they are selling. I even checked on their website and it doesn't say anything about it there either.
After doing some detective work, these waterproof Kindles are most likely 2nd generation Kindle Paperwhites, not the newer model with the upgraded 300 ppi screen.
Most people probably just assume it's the current Kindle Paperwhite, but that doesn't appear to be the case.
Unless the few specs that Waterfi gives are inaccurate, it's the 2nd gen Paperwhite based on the fact that it has 4GB of storage and 8 weeks of battery life. The first gen Paperwhite had 2GB of storage and the new 300 ppi Paperwhite got knocked down to 6 weeks of battery life because of the higher resolution screen, so only the Paperwhite 2 fits those specs. Of course that's assuming Waterfi has the correct specs listed in the first place…
Either way, waterproof Kindle Paperwhites are not cheap. The Wi-Fi model is $240 and the 3G model sells for $310. That's pretty pricey considering the fact that the waterproof Kobo Aura H2O goes for $179, and it has a larger 6.8-inch screen.
But if you really want a waterproof Kindle that can go down to 210 feet underwater, Waterfi is currently the only way to make that happen.