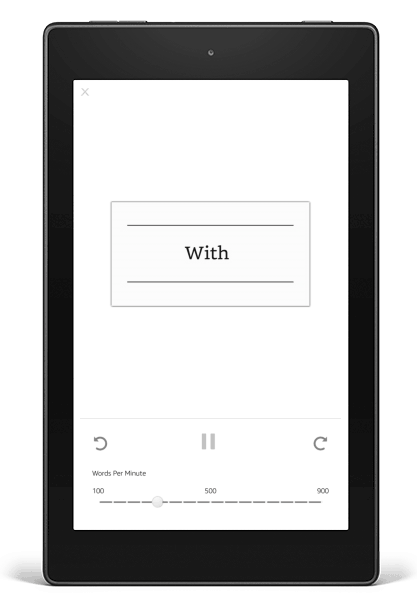 Yesterday Amazon announced a new lineup of Fire tablets for 2015. One of the changes with this year's tablets is an updated user interface and updated software.
The new software version is called Fire OS 5 "Bellini"; it's based on Android 5.1 Lollipop. One of the new features that it adds to Fire tablets is something called Word Runner.
Word Runner is a new speed reading feature that's coming to Fire tablets and the Kindle for Android app.
It's an interesting idea that I've never seen offered before on any ebook readers or reading app.
Basically Word Runner just shows one word at a time in the middle of the screen. You can adjust the speed of the words, and the speed automatically slows down for things like difficult words, page breaks, and punctuation.
There's also a "brake" feature that lets you stop the words and scroll back if you miss something or want to reread a section.
Word Runner displays results at the end of a chapter that shows how fast you can read, so you can try to improve your reading time and challenge friends to see who can read faster.
The stats also show your words-per-minute reading speed when using Word Runner compared to your regular reading speed when not using Word Runner.
You can watch a video of Word Runner in action on this Word Runner description page at Amazon. Len Edgerly from The Kindle Chronicles also uploaded the video below on YouTube showing how the new Word Runner feature works.
Kindle Word Runner Demo