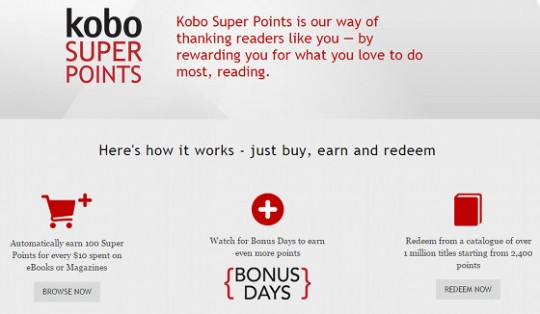 Kobo has just launched a new promotion called Kobo Super Points. Basically customers earn Super Points when purchasing ebooks and magazines that can be used to get free ebooks.
There are two levels to the program. One that's free for all customers to use (Super Points automatically accumulate with each purchase). And there's an upgraded tier for Kobo VIP Members that costs $10 (or 4,000 points) per year.
Kobo VIP Members get double the points with each purchase, along with 10% off ebooks with a VIP badge, which includes over 1 million ebooks, plus one free ebook per year.
The way it works is customers earn 100 Super Points for every $10 spent on ebooks and magazines (200 points for VIP Members).
Then once you hit 2,400+ points you can use them to get a free ebook from this list of over 1 million titles.
So the way the math works out you have to spend $240 to get enough points to get a free ebook, or $120 for VIP Members ($130 if you count the membership fee). That sounds like a lot to spend just to get a freebie, but Kobo says to watch out for Bonus Days where you can earn bonus points.
This is a good way to reward loyal ebooks buyers, but for casual readers it's going to take a long time to build up enough points to use them. Either way it's good to see Kobo coming up with some new ideas. It's not surprising to see them do this considering Rakuten (Kobo's parent company) has a similar Super Points program on their website, Rakuten.com.