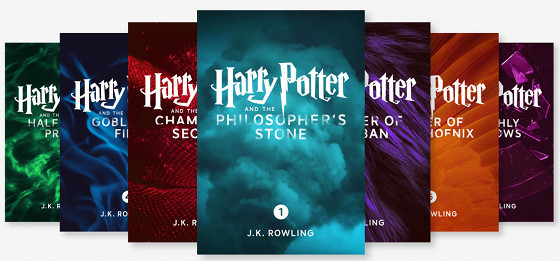 Last week a collection of new digitally enhanced Harry Potter ebooks were added to the Apple iBooks store. The enhanced editions are an exclusive release to iBooks and aren't available anywhere else, even the Pottermore website.
All seven books in the Harry Potter series have been digitally enhanced to add things like animated images, custom artwork, new covers, interactive features, and some of J.K. Rowling's annotations.
The new Harry Potter "Enhanced Editions" are being sold in English for $9.99 each. They are available for purchase in thirty-two different countries.
Apple is also taking pre-orders for versions in French, German, and Spanish that will be released on November 9th to an additional eighteen countries.
Here are some added details about what kind of enhancements are included via Pottermore:
There's an animated Golden Snitch that flits across a page… There's a Mountain Troll absent-mindedly clubbing the paragraph below, there are fires that flicker, portraits that move and smoke that billows beautifully. Each detail is a subtle, deliberate decision to complement the imagination of J.K. Rowling's wizarding world… Some of them are grand and obvious and others are hidden.
Here's the link where you can find the Harry Potter Enhanced Editions on iTunes.
The Apple exclusivity aspect is a big deal. That means you can only access these Harry Potter ebooks on iDevices and Mac. That's like saying only pure-bloods can read them, no mudbloods allowed. That's not very magical…