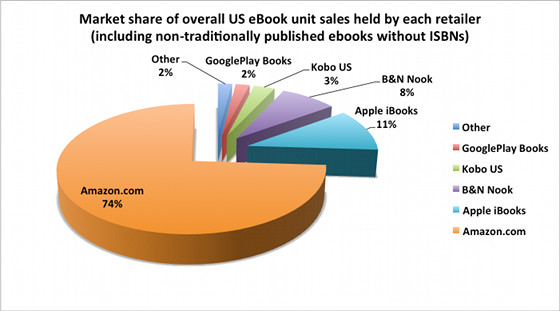 Last week Author Earnings posting an interesting article about the current state of the US ebook market.
Amazon has an even higher percentage of the market share than previously thought, with around 74% of all US ebook sales going through the Kindle Store.
Earlier reports from 2014 had Amazon at about 65%, but that didn't include indie ebook sales.
With indie books included in the statistics, Amazon accounts for 74% of all US ebook purchases and 71% of total dollars spent on ebooks in the US.
The stats show that indie books are a bigger part of the ebook market than previously thought. While big publishers complain that ebook sales are declining, indie sales are on the rise (maybe big publishers should reconsider their high $10-$15 prices, for starters).
According to the report, indie authors and Amazon-imprint authors sell more ebooks daily than all traditional publishers put together.
Amazon's ebook strategy is clearly putting them way out in front of the ebook war in the US.
The remaining ebook competitors in the US hold such a small share of the market that it's hard to see any of them ever providing any real competition for the Kindle store moving forward.
You can see why Kobo no longer does any marketing in the US or even bothers to sell their ereaders from any US retailers. With just 3% of the overall market, it's hardly worth the cost and effort.
Barnes and Noble has an 8% market share, which is kind of surprising when you put it this way: Nook has at least 4 times the market share of Google Play Books, which only makes up 1-2% of the current ebook market (that's really pathetic considering how powerful Google is and the fact that their ebook app comes preloaded on just about every Android tablet and phone).
Apple comes in second with around 10-12% of the US ebook market. That's pretty high considering that iBooks only work in iDevices and Macs. Just think of how much higher that number could be if iBooks were available on other platforms, and if Apple offered a dedicated ebook reader equivalent to the Kindle.
Unless Apple decides to open up iBooks to more platforms, or one of the smaller companies does something to blow the doors off ebooks, Amazon pretty much has the ebook market locked up in the US. 5-10 years from now Kindle might be the only ebook format left.
Here's the link to the Author Earnings report with a lot more info.