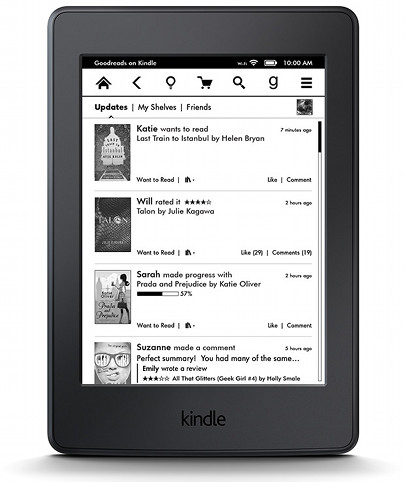 Amazon is running another sale on their current line of Kindles, all except the Kindle Voyage, which only seems to ever go on sale for Prime members.
This limited-time Kindle sale takes $20 off the regular price of the Kindle Paperwhite 3 and the entry-level Kindle, as well as the Kid's bundle.
Once again the best deal by far is the 300 ppi Kindle Paperwhite 3 for $99.
In my opinion, it's easily worth the extra $40 over the $59 Kindle for the frontlight and higher resolution screen, not to mention the much nicer design.
The Kindle Paperwhite 3 was just released back in July so it's pretty surprising to see it priced below $100 so soon after its release. Here's my PW3 review for more information about it.
Amazon also has the entry-level Kindle on sale for $20 off, taking the price down to $59. The Kids Kindle Bundle is marked down to $79 as well. Both are exactly the same Kindle; the only difference is the bundle comes with a colored back cover and a two year warranty.
The Paperwhite 3 is the much better deal over the entry-level Kindle. Non-frontlit ereaders are such a drag. Plus the cheap plastic design and 5-year old screen tech are not attractive.
There are two ways to interpret all these recent Kindle sales. Some may think it's a sign that new models are about to be released. That they are clearing out stock to make room for newer models.
Or it could just be that they are on sale because it's November and the busy shopping season is getting started. I tend to think it's the latter. It seems very unlikely at this point that any new Kindles will be released this year. The busiest shopping weekend of the year is only two and a half weeks away.
Kindle Sale Links
Kindle Paperwhite 3 for $99
Kids Kindle Bundle for $79
Kindle for $59