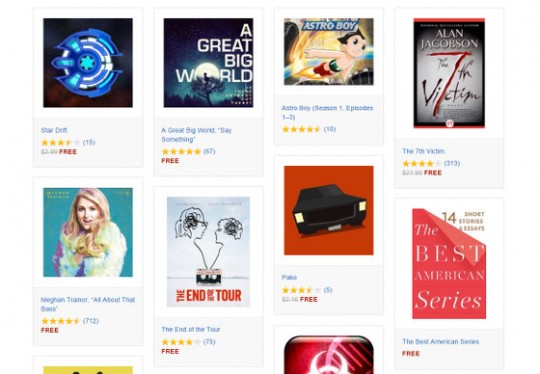 Amazon and Verizon have teamed up for a big giveaway today only (November 25th) to celebrate Thanksgiving with some Thanksgetting. Consider it an early Black Friday gift, no waiting in line required.
You can get a bunch of free games, some free music, three free Kindle books, and several Amazon videos, with some free movies and TV shows.
All you need is an account with Amazon.com to claim the freebies; a Verizon account is not required—they're just sponsoring the promotion.
As mentioned above, it's a 1-day only giveaway for November 25th, 2015. The offer expires at midnight Pacific Time.
Here's the link to the full list of freebies at Amazon.
Free Videos
Paper Planes
The End of the Tour
Rescue Me (Season 1, Episodes 1–3)
Lynyrd Skynyrd: One More for the Fans
Divergent
Björk: Biophilia Live
Party of Five (Season 1, Episodes 1–3)
Astro Boy (Season 1, Episodes 1–3)
Justified (Season 1, Episodes 1–3)
Odd Thomas
The Big C (Season 1, Episodes 1–3)
Drop Dead Diva (Season 1, Episodes 1–3)
Just Eat It: A Food Waste Story
Jackie & Ryan
Unity
Free Apps
Kung Fury: Street Rage
Star Drift
Scribblenauts Remix
Plague Inc.
Bloons TD 5
Paper Galaxy Deluxe
Buddy & Me
Toca Life: City
Hidden Expedition: The Crown of Solomon
Pako
Free eBooks
The Best American Series
Deep Summer
The 7th Victim
Free Music
Kongos, "Come with Me Now"
Nicky Jam & Enrique Iglesias, "El Perdón"
Red Sun Rising, "The Otherside"
Chris Young, "I'm Comin' Over"
A Great Big World, "Say Something"
Meghan Trainor, "All About That Bass"
Elvis Presley, "If I Can Dream"
The Piano Guys, "Fight Song/Amazing Grace"
Fifth Harmony, "Sledgehammer"
Walk the Moon, "Different Colors"