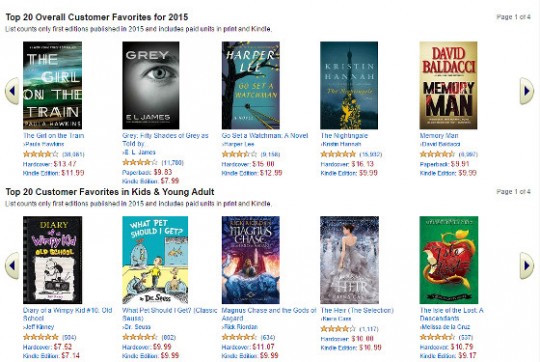 Amazon issued a press release a couple of days ago announcing the best-selling books of 2015, complete with a list of the top 20 titles for a few different categories. According to the fine print, the best-seller lists take into account first editions published in 2015 and reflect paid print and Kindle editions.
Last month Amazon revealed their editors' picks for the best 100 books of 2015. It's interesting to compare that list with what customers are buying. Most of the editors' top choices aren't even on the best selling books list.
The overall #1 best selling book of 2015 is The Girl on the Train by Paula Hawkins. The books has a 4 star rating with over 38,000 reviews.
There isn't a another book on the list with half that many total reviews, so it must have been the best seller by a wide margin. It was also the most wished for book of 2015.
The most gifted book of 2015 was Harper Lee's second novel, Go Set a Watchman, which was also the best selling print book of 2015. The top selling kids and teen book of 2015 was Old School: Diary of a Wimpy Kid Book 10 by Jeff Kinney, which ranked #12 overall.
The 20 best-selling books of 2015
1. The Girl on the Train by Paula Hawkins
2. Grey: Fifty Shades of Grey as Told by Christian by E.L. James
3. Go Set a Watchman by Harper Lee
4. The Nightingale by Kristin Hannah
5. Memory Man by David Baldacci
6. Make Me: A Jack Reacher Novel by Lee Child
7. Rogue Lawyer by John Grisham
8. The Girl in the Spider's Web: Millennium Series Book 4 by David Lagercrantz
9. Dead Wake: The Last Crossing of the Lusitania by Erik Larson
10. Silent Scream by Angela Marsons
11. 14th Deadly Sin (Women's Murder Club) by James Patterson with Maxine Paetro
12. Diary of a Wimpy Kid, Book Ten: Old School by Jeff Kinney
13. Enchanted Forest: An Inky Quest and Coloring Book by Johanna Basford
14. The Wright Brothers by David McCullough
15. Adult Coloring Book: Stress Relieving Patterns by Blue Star Coloring
16. The Liar by Nora Roberts
17. Luckiest Girl Alive by Jessica Knoll
18. The Crossing by Michael Connelly
19. The Stranger by Harlan Coben
20. A Spool of Blue Thread by Anne Tyler
Here's the link to see the full top 100 lists of best-selling print and Kindle books of 2015 at Amazon. In addition to the list above, they have top 20 lists for children's books and young adults, plus a list for the most wished for titles and most gifted books of 2015.