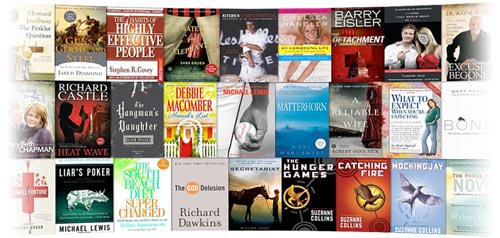 Yesterday I came across a post at MobileRead asking what do you do with an ebook after you're finished reading it. That's an interesting question that I haven't thought of before.
For me, I do nothing. I just let the finished books be wherever it is. I don't make backups. I don't mark them as read or put them in a finished folder. If I don't like them I delete them. Mostly I just let them sit there wherever they last were.
I know that all my ebooks are still available online in the cloud, be it from Amazon, Kobo, B&N or Google, so I don't care about keeping tabs on them. If I want to reread something I'll just go back to the source and redownload it.
I know a lot of people are much too paranoid about stuff like that. They want backup copies of everything, and don't trust that their books will be available to download in the future.
The way I figure it, none of the main ebook store are just going to close down overnight, so I don't worry about that kind of stuff. I've never heard of an ebook store closing and not letting customers download their ebooks first. I guess it could happen to a small business but I don't see that happening with any of the major players (well, except maybe Barnes and Noble since they don't allow customers to download ebooks as it is).
Either way, I mostly ignore books once I finish them. Really good ones I may want to read again in a few years, but I worry about that when it happens. In the meantime I could care less where the actual copy is located.
Some people like to be able to have their entire library downloaded to their device, even all the stuff they've finished reading. That's why there are lots of complaints about only having 4GB of internal storage space with no memory card slot on Kindles and newer Kobos and Nooks.
So what do you do with your ebooks once you finish reading them?