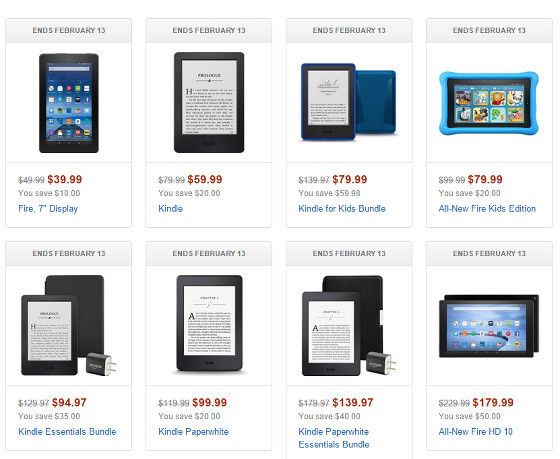 Amazon has added a bunch of Kindle ereader and Fire tablet deals to their lineup today. It's a week-long sale that runs from now through February 13th.
If you've been holding out on on buying a Kindle or Fire tablet, now is the time to get in on the action. These are the best deals they've had since before Christmas.
You can get the new 2015 Fire tablet for just $39, or a Kindle Paperwhite 3 for $99 (links below).
Other Kindles and Fire tablets are on sale as well. Amazon even added a couple of new Kindle bundle packages to put on sale for Valentine's day.
The new bundle comes with a power adapter and a Jonathan Adler Cover. They are designer covers that are available in seventeen different styles, with lots of bright colors and unique designs. Some are really strange, though. For example you can get a cover with a girl licking a strawberry, which is weird on multiple levels.
Amazon has really been into offering all kinds of bundle packages lately but most of them actually aren't that great of a deal unless you were considering spending $20 on an insanely overpriced power adapter anyway. Like right now you can get the Paperwhite 3 and an Adler Cover for $5 less than the bundle deal if you don't care about the adapter.
Kindle Sales Links
$59 Kindle – $20 off
$79 Kindle for Kids Bundle – $20 off
$99 Kindle Paperwhite 3 – $20 off
$99 Kindle Style Bundle – $30 off
$135 Kindle Paperwhite Style Bundle – $35 off
Fire Tablet Sales Links
$39 Fire Tablet – $10 off
$63 Fire Essentials Bundle – $10 off
$79 Fire Kids Edition – $20 off
$99 Fire Kids Essentials Bundle – $13 off
$149 Fire HDX 7 – $65 off
$179 Fire HD 10 – $50 off