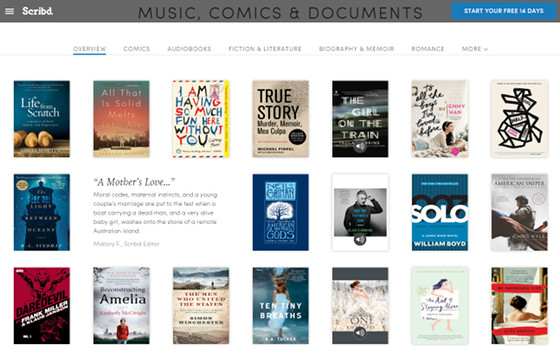 Scribd is a subscription service that offers customers access to ebooks, audiobooks, comics, and sheet music for a monthly fee of $8.99.
Scribd has become somewhat notorious for changing their membership terms, and today they announced that more changes are coming starting in mid-March.
It's going to make some customers unhappy, but at least Scribd is trying to make things work with publishers instead of just closing down business like some similar subscription services.
Basically what's happening is "unlimited" access is changing to limited access.
Customers will still have unlimited access to a rotating catalog of ebooks and audiobooks "handpicked" by Scribd's editors. But unlimited access to all ebooks is going away.
Each month customers will get access to three ebooks and one audiobook from Scribd's library of "bestsellers and award winners", which loosely translates to content from big publishers.
Access to sheet music and documents remains unlimited. And the monthly fee will remain $8.99.
Scribd says that the change will only affect the reading habits of 3% of its current subscribers. That doesn't seem to quite add up though, does it? Why would they making sweeping changes to their membership terms as a result of such a small portion of subscribers?