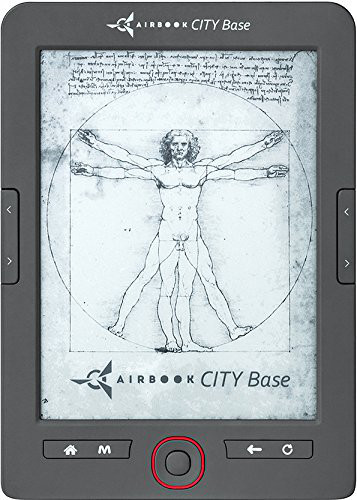 I came across an unusual ebook reader listed at Amazon called the AirBook City Base.
It's a basic ebook reader with a 6-inch E Ink Pearl screen. It doesn't have Wi-Fi and it doesn't have a touchscreen but it is quite cheap at $80 with free shipping.
The AirBook City Base is sold by a Ukrainian company called Airon.
It's interesting that they chose to sell this particular model on Amazon and not any of their other models, which appear to be rebranded Boyue ereaders.
The AirBook City Base is their most basic model. But it does have some good things going for it. It supports audio and it comes with a memory card slot, and it works with a long list of formats.
I'm not sure if it supports English, however. It probably does but it's not specified anywhere. If they're going to sell this product internationally you'd think they would at least specify which languages it supports…
AirBook City Base Specs
Screen: 6-inch E Ink Pearl.
Screen resolution: 1024 × 758.
128 MB RAM.
4GB built-in memory.
Battery: 1500mAh Li-Polymer.
MicroSD card slot for cards up to 32 GB.
MicroUSB 2.0 port.
Supported Formats: TXT, EPUB, PDF, FB2, DOC, RTF, CHM, DJVU, ZIP, HTM, HTML, MOBI, PDB, JPG, GIF, PNG, BMP, MP3, WAV.
Dimensions: 164 x 116 x 8.6 mm.
Weight: 160g.
AirBook City Base Video