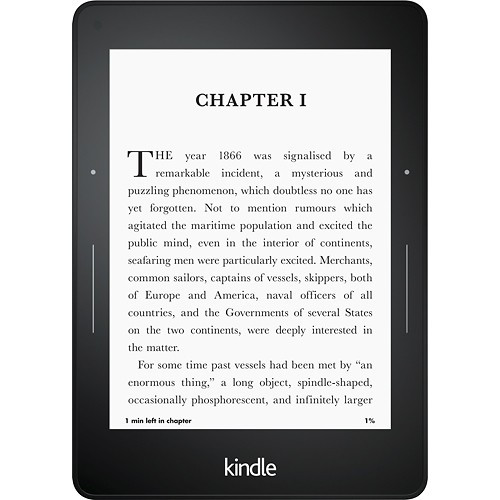 This week Amazon has their line of Kindles on sale for $20 off the regular price. All current models are included in the deal except the Kindle Voyage.
It appears that Best Buy didn't get the memo on that last part because they do have the Kindle Voyage marked down by $20 in addition to the other models, taking the price from $199 to $179.
It doesn't sound like a lot but this is pretty much the only time the Kindle Voyage has ever been on sale since it was first released 16 months ago, aside from a few-hour Prime Members only deal.
Curiously Best Buy only has the Wi-Fi model marked down; the 3G version is still listed at the regular price of $269.
Even at $179 it's still kind of hard to justify paying $80 more than the Kindle Paperwhite 3 when they both have the same screen and the same exact software features.
The Voyage adds page sensor buttons, an auto-adjusting frontlight, it has a thinner and lighter design, and a flush glass screen that helps make text appear a touch clearer than its less expensive counterpart.
Either way it's good to see Best Buy finally offering the Kindle Voyage on sale even if Amazon isn't going to do it.