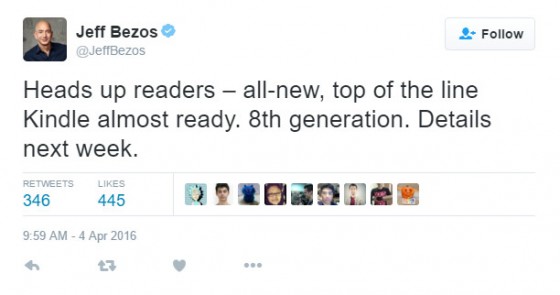 It looks like a new Kindle is going to get announced next week, a top of the line Kindle, no less.
Jeff Bezos tweeted this morning about a new 8th generation Kindle being almost ready, and that further details will be revealed next week.
No, it's not an April Fool's joke; the date on the tweet is April 4th.
It will be interesting to see what Amazon has up their sleeves.
Will it be a new Kindle Voyage, or will they go in a different direction and call it something else?
Lots of people have been interested in a potential Kindle Voyage 2, but honestly there's not a whole lot they can change at this point given the technology limitations.
One thing that could make a big difference in the eyes of consumers is to offer a larger version of the Kindle Voyage, perhaps a Kindle XL with a 7-inch or 8-inch E Ink screen. Right now the Voyage is too similar to the Kindle Paperwhite 3 to justify the huge price difference for a premium ereader.
Either way it's all speculation at this point. Right now all we have to go on is the tweet below, and it doesn't reveal much.
Stay tuned to The eBook Reader Blog for more updates. More details about the new Kindle will probably get leaked before the official announcement—that's how these things usually go down.
Heads up readers – all-new, top of the line Kindle almost ready. 8th generation. Details next week.

— Jeff Bezos (@JeffBezos) April 4, 2016