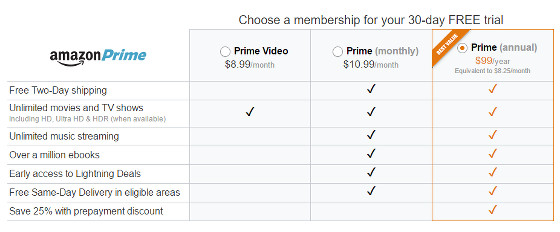 Amazon has started accepting monthly memberships for Amazon Prime and Prime Video. Previously they only offered a yearly subscription for Amazon Prime, but now they have single month plans and they are giving Prime Video a separate plan of its own to better compete with the likes of Netflix.
The monthly rate for Amazon Prime is $10.99 per month. The annual plan remains $99 per year, which averages out to $8.25 per month.
The rate for Prime Video by itself is $8.99 per month, which is less than Netflix but then again Netflix has a lot more shows and movies.
The Prime Video rate seems kind of high. At that point why wouldn't you just spend a couple bucks more for all the benefits of Prime, or less monthly for an annual subscription of Prime?
Either way the monthly Prime option has a lot of perks, especially for seasonal shopping.
Plus the cost of Prime monthly is pretty much the same or less than paying for 2-day shipping on a single order, so you're better off subscribing and getting extra benefits than paying more for shipping alone.
Monthly Prime has all the same benefits as an annual subscription. You get free 2-day shipping on orders shipped and fulfilled by Amazon, plus unlimited streaming of Amazon's music and videos from Prime Video, you can to borrow an ebook for free each month if you own a Kindle or Fire, and get early access to lightning deals and free same-day deliveries in certain areas.
It's funny because just a couple weeks ago I was saying it would be nice if Amazon offered Amazon Prime on a monthly basis like they do with Kindle Unlimited so that you can just use it when you need it and cancel when you don't. It's good to see them add this option. I can see myself using it a couple times a year since it's not something I need every month.