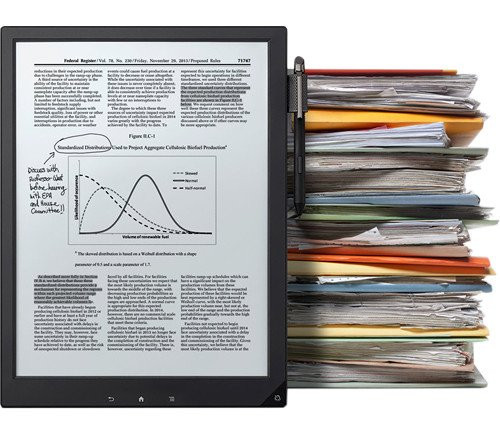 Sony's specialized DPT-S1 E Ink PDF Reader has been on the market for a couple years now. It was the very first 13.3-inch E Ink ereader to get released, and as it finally starts to get some competition from other companies, the Sony DPT-S1 still remains a popular choice.
I thought that once the 13.3-inch Onyx Boox Max got released with a bunch of upgrades over the Sony no one would care about the DPT-S1 anymore, especially considering that the Max is quite a bit cheaper.
If you just look at the specs and software the Onyx appears to have a major advantage.
The Max has a lot more features, like audio support, Bluetooth, more storage space (16GB vs 4GB), open Android 4.0 software to install apps, and support for a number of ebook formats, whereas the DPT-S1 only supports PDF format.
The Onyx Boox Max looks like the obvious choice on paper.
As it turns out, that's not necessarily the case at all. Even though it has a limited feature set the Sony device still has some advantages over the Max.
The Sony ereader has a finger-friendly capacitive touchscreen, whereas the Max's touchscreen only works with a special stylus. The Sony device is also a lot lighter at 12.6 ounces versus the Max at 17.5 ounces.
Plus user reports seem to suggest that Sony's software works better and is more refined when it comes to reading PDFs and adding notes than Onyx's software.
Unfortunately there aren't any comparison reviews directly comparing the Sony DPT-S1 with the Onyx Boox Max, but there are a few comparisons between the Sony device and other Onyx ereaders, which have the same software as the Max.
The video below compares the Onyx Boox M96 with the Sony DPT-S1. There are more comparison videos on YouTube.
Boox M96 vs Sony DPT-S1 Comparison Review