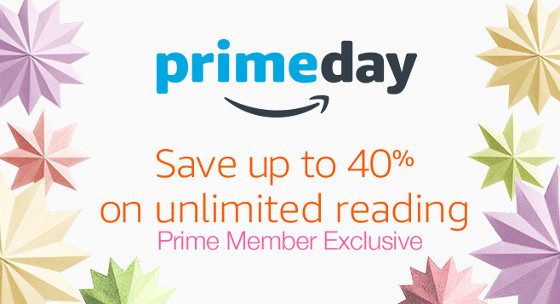 Amazon is running their second annual Prime Day on July 12th, where Amazon Prime Members get access to a bunch of exclusive discounts. It's kind of like Amazon's version of Black Friday/Cyber Monday for July.
Amazon has already started rolling some exclusive deals for Prime members for the week leading up to Prime Day.
One of the deals takes up to 40% off Kindle Unlimited, Amazon's ebook subscription services that grants unlimited access to over 1 million ebooks.
Update: The deal is already expired but it will be back on July 12th.
There are several thousand audiobooks available in Kindle Unlimited as well, not just ebooks.
Kindle Unlimited normally costs $9.99 per month; now Prime members can get it for as little as $5.99 per month with the purchase of 24 months.
The way the deal breaks down is it's 25% off for 6 months, 33% off for 12 months, or 40% off for 24 months.
Amazon only offers discounts on Kindle Unlimited a few times per year so if it's something that interests you now would be a good time to check it out.
This year's Prime deals are a bit more customer-friendly because you no longer have to subscribe to a full year of Prime for $99 because Amazon now offers the monthly Prime plans for $10.99.