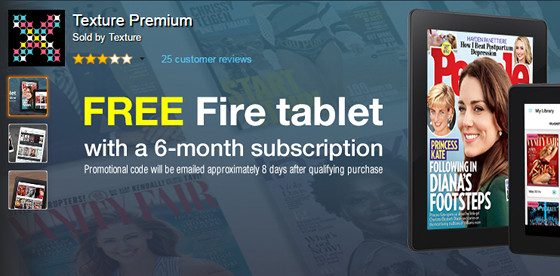 Amazon has a couple of new deals worth mentioning as we approach Prime Day on Tuesday. Neither of these deals require having Amazon Prime so no need to worry about that.
First off, one of the main Gold Box Deals of the Day is a sale on some best selling Kindle ebooks. It's a one day only sale.
Secondly, there's an ongoing Texture Premium promotion at Amazon where you can get a free 7-inch Fire tablet with the purchase of a 6-month subscription to Texture.
Texture is an app that provides unlimited access to a bunch of different digital magazines.
A six-month subscription to Texture will set you back $89.95.
According to the fine print the promotion runs through July 21st, and it's open to US residents only.
Approximately eight days after you activate the Texture subscription, Amazon will send a promo code for a free 7-inch Fire tablet with Special Offers.
You can choose either the 8GB or 16GB model (why anyone would choose the cheaper one is anyone's guess).
It's kind of surprising we haven't seen more bundle offers like this considering how cheap the $49 Fire tablet sells for, especially when it goes on sale.