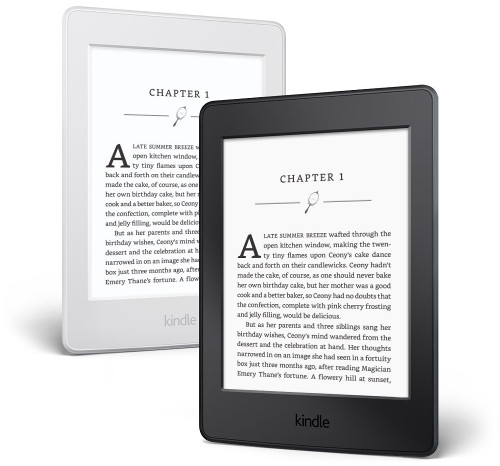 Some people have asked which color Kindle is the best to get now that Amazon has started selling white Kindles in addition to the standard black option.
The white versions are available with the Kindle Paperwhite 3 and the entry-level Kindle.
The white Paperwhite 3 with Wi-Fi is already sold out until August 24th, but the 3G version is currently in stock in white.
So far according to Amazon's best sellers list for electronics, the black entry-level Kindle is selling way better than the white version, ranked number 12 and 98 respectively.
Comparing the Paperwhite's rank on the list isn't as relevant since the white Wi-Fi versions are currently on backorder for over a month, but even still the white Paperwhite ranks much higher at number 25 than the white entry-level Kindle.
My thoughts on the subject are the color choice doesn't really matter; it's mostly just a personal choice of which one you like better.
That being said, I think there is a bit of an optical illusion that helps make the text look darker with a black border, and something about the white color of the entry-level Kindle accompanied with the non-frontlit screen seems to make the background appear darker and grayer. It doesn't help that the E Ink display tech on the "new" Kindle is from over 5 years ago.
With the white Kindle Paperwhite I don't think that would matter since the frontlight makes the screen appear a lot whiter in tone compared to the gray of the entry-level Kindle's screen.
I haven't seen a white Paperwhite in person yet so I can only comment on the new $79 Kindle. With it I wouldn't recommend the white version simply because it seems to highlight how much grayer and darker the old school E Ink screen is, but the white color itself is quite nice and it doesn't show fingerprint smudges like the black.
Either way Kindle skins make choosing a color somewhat irrelevant if you want to install a skin of a different color or with an interesting design or some artwork.