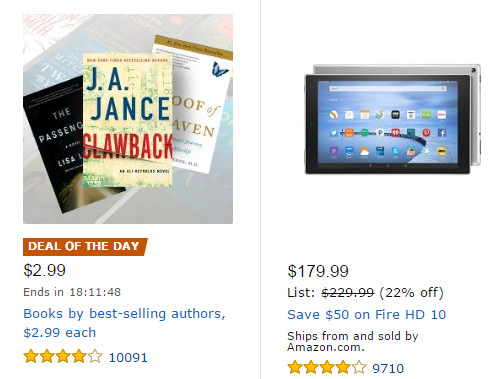 Amazon's main deal of the day once again includes some sales on Kindle ebooks. They've been doing Kindle book sales for the main deal of the day a lot lately.
This time around the deal of the day includes select ebooks written by New York Times best-selling authors.
There are some good titles in the mix, and all are marked down to $2.99.
They still have the Summer Reading Deals at up to 80% off ongoing as well.
In related deals news, the Fire HD 10 is still on sale too.
It's marked down by $50, starting at $179 for the 16GB model.
Like I mentioned last week, I still think the Lenovo Tab2 10 is a much better tablet for the price, and it's been on sale for $159 lately (or if you're super lucky you can get it from Walmart for $45, if you can find one).
Also, Amazon has started selling a Kindle Essentials Bundle for the new entry-level Kindle for $115. It appears on Amazon's "deals" page, like their other bundles. But the essentials bundle is pretty lame. Amazon is getting people to pay $35 extra for a cover and a USB charger and somehow that's supposed to qualify as a good deal and a "sale". You can get a good 3rd party Kindle cover for around $10, so those bundle packages are pretty lame if you ask me…