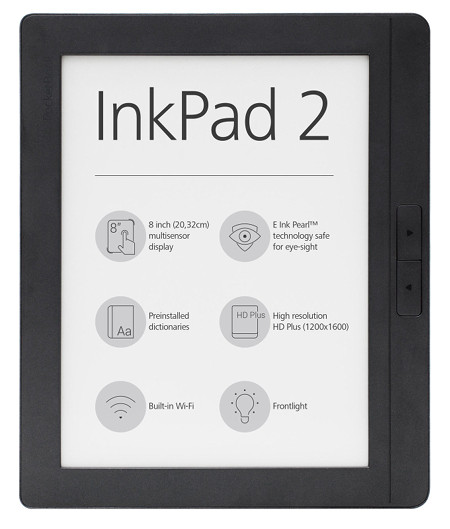 PocketBook, the ebook reader company most people have never heard of, has released a new 8-inch ebook reader called the PocketBook InkPad 2, the e-reader for successful people (according to the press release).
It's an updated version of the previous InkPad, of course. The new model has an improved screen, a lighter design, and physical page-turn buttons.
The InkPad looks somewhat similar to the Kindle Oasis with the page buttons situated on one side of the screen with a larger bezel on that side to grip.
The funny thing is the 8-inch InkPad 2 can be purchased and shipped from Germany for slightly less than the Kindle Oasis.
As a commenter recently noted (thanks, Harry), a retailer in Germany has the PocketBook InkPad 2 for sale on eBay for 219 euros.
Since there isn't a single retailer in North America that sells PocketBook ereaders, eBay is pretty much the only option (that's why no one has heard of PocketBook, and it's too bad because the InkPad 2 would be a really good alternative to the Kindle).
As far as features, the InkPad 2 has a frontlight, a capacitive touchscreen, Wi-Fi, it has 4GB of internal storage space, plus a microSD card slot for expansion up to 32GB, and the usual 1GHz processor and 512MB of RAM. It also supports audio and has text-to-speech built-in.
Additional features mentioned on the specs page: ReadRate, DropBox, Send to PocketBook, Book Store, Browser, Audioplayer, Calculator, Calendar, Clock, Chess, Dictionary, Klondike, Photo, RSS News, Sudoku, Scrible.
The 8-inch screen has a resolution of 1600 x 1200, which equates to 250 ppi.
Supported formats include: PDF, EPUB, (Adobe DRM), DJVU, FB2, FB2.ZIP, DOC, DOCX, RTF, PRC, TCR, TXT, CHM, HTM, HTML, JPEG, BMP, PNG, TIFF, and MP3.
The device weighs 350 grams and measures 195.5 x 162.8 x 7.3 mm.
The PocketBook InkPad 2 looks like a very interesting ereader. Too bad PocketBooks aren't sold in the US anymore. I reviewed a couple different models several years ago and they were quite nice, but they were among the least viewed reviews I've ever done.