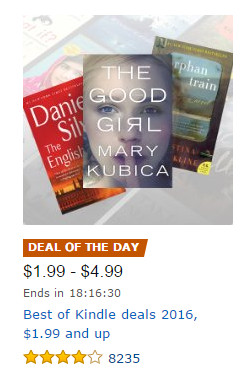 Here lately Amazon has been offering 1-day only sales on Kindle books, and today they're having another sale for the Top Kindle Books of 2016.
Usually the list of books on sale is pretty short but this time around they've got 49 Kindle books on sale as part of the Gold Box Deal of the Day.
There are lots of popular titles on the list and most of the ebooks are priced between $1.99 and $3.99.
Once again it's a one day sale for August 28th only.
Unfortunately none of the Kindles are on sale at the moment but some Fire TV devices are on sale for $15 off.
I also noticed some refurbished Kindles for cheap on eBay.
Notably the Fire HD 10 is available for $159 "Certified Refurbished" by Amazon. Considering new ones sell for $229 that's a sizable discount but I still think the Lenovo Tab2 10 is better.
There are still a few old school Kindle Keyboards (3rd gen) available on eBay refubshed as well. The black one is $45.99 and the white one is $49.98.
The Kindle Paperwhite 3 goes on sale for $99 so often that I don't know why anyone would buy a refurbished one but Amazon does sell Kindle Paperwhite 3 refurbs for $93. The refurbished Paperwhite 2 goes for $69 on eBay.