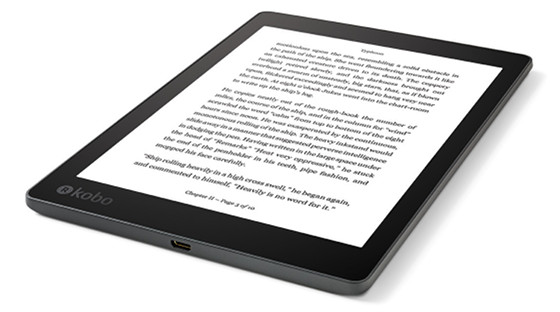 I've been using the Kobo Aura One for a few days now so I thought I'd post some thoughts and first impressions about it.
First off, the 7.8-inch 300 ppi E Ink screen is absolutely fantastic. Kudos to Kobo for taking a chance on a larger ereader. If Amazon doesn't follow suit and release an 8-inch Kindle they are absolute morons.
It took a grand total of about 5 minutes to realize that I much prefer the Kobo Aura One's 7.8-inch screen to a 6-inch screen.
If you listen to Amazon's reps they talk about making Kindles smaller and lighter, and they probably don't want to come out with a larger Kindle because they think it would be too heavy.
Well, that's complete rubbish. The Kobo Aura One is not too heavy at all. In fact it's surprisingly light for the size. It actually weighs less than a Kindle Keyboard and it even weighs 8 grams less than the Kindle Oasis with the cover on.
Compared to a tablet with an 8-inch screen it is much lighter. The new Fire HD 8 that Amazon just released weighs 341 grams and the Kobo Aura One only weighs 230 grams.
So the argument that an 8-inch ereader is too big and heavy just doesn't hold up.
The fact of the matter is the Kobo Aura One is what the Kindle Oasis should have been, especially considering the Oasis sells for $300 and up.
Lots of people were hoping for a larger Kindle, and with a name like Oasis, you would think that they'd finally come out with a waterproof Kindle. Not so. Luckily the Kobo Aura One fills both of those needs and it does so at a fraction of the price.
It's not all roses, however. While the screen is great, Kobo's software still suffers from a number of weaknesses when compared to a Kindle. For starters, PDF support is so pathetic that you'd be better off using a 4-inch smartphone. Plus Kobo still hasn't managed to figure out how to make highlighting work smoothly and there's still no landscape or full screen mode for some inexplicable reason. But at least that are lots more font and layout options than Kindles.
Stay tuned for reviews and comparisons of the Kobo Aura One over the next week.